Mother Teresa's life a lesson in understanding hope even in the darkness, says Archbishop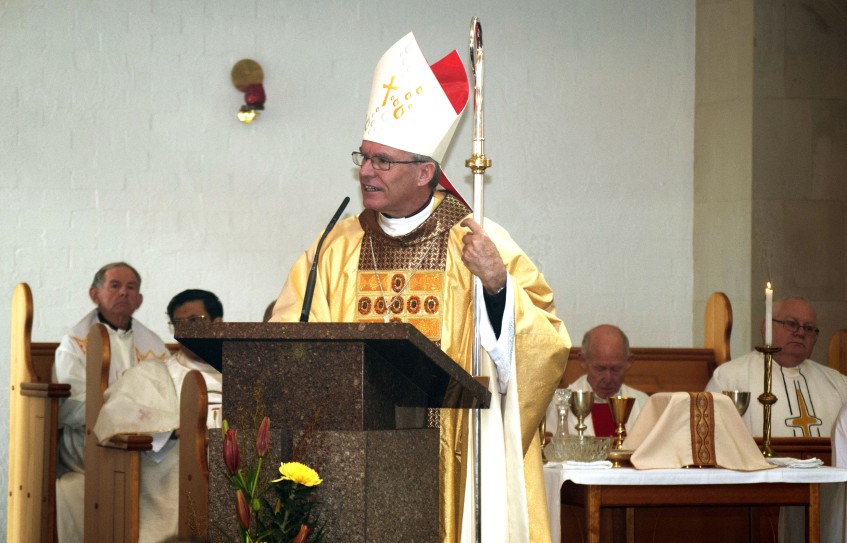 Looking back at the life of Mother Teresa of Calcutta can provide other members of the Catholic community with a kind of 'guide' to holiness, Archbishop Tim Costelloe has said. Photo: Caroline Smith
By Caroline Smith

Looking back at the life of Mother Teresa of Calcutta can provide other members of the Catholic community with a kind of 'guide' to holiness – and this is one sure sign of her saintliness, Archbishop Timothy Costelloe has said.
Speaking at a Mass in Queens Park Parish on Saturday, 3 September – the day before her canonisation in Rome – Archbishop Costelloe said Mother Teresa's elevation to the community of saints indicated three key things.
"At the most basic level, the canonisation of a person represents the Church's certainty of faith that the person is in heaven enjoying the fullness of eternal life with the Lord whom they served so well during their life," he said.
"It is also an expression of the Church's conviction that in the canonised person's life story we find a genuine path to holiness which we can safely follow.
"And lastly, in canonising a person the Church presents that person to us as one whose prayers we can confidently ask for and rely upon in our own journey of faith."
The Archbishop went on to say that one of the key lessons to be learned from Mother Teresa's life was her ability to strive and trust in God even during times of suffering and doubt.
"Mother Teresa's desire to light a light for those in darkness on earth has, of course, taken on a deeper significance with the revelation that for most of her life as the founder of the Missionaries of Charity, Mother Teresa lived without any real sense of the presence of Christ in her life," he said.
"In our Catholic tradition we speak of this as 'the dark night of the soul.' It is a confusing and troubling reality, but one which so many people, both saints and sinners, experience.
"In the mystery of what are to us God's strange ways, God often seems to withdraw from those who seek to serve him, leaving them with no sense of his presence or his sustaining love. It is an extraordinary challenge to someone's faith. To feel abandoned, or forgotten or cast aside is indeed to be left in the dark and even lost in the dark. This was the painful reality of Mother Teresa's life – and yet she remained faithful."
Perth Archbishop Tim Costelloe celebrated Mass in honour of Mother Teresa's canonisation at St Joseph's Priory Church in Queens Park. Photo: Caroline Smith
The Mass attracted a large number of people from across the Archdiocese of Perth, interstate and overseas, including sisters from Mother Teresa's own order, the Missionaries of Charity.
In his homily, Archbishop Costelloe mused on what Mother Teresa had said regarding the possibility of her own elevation to sainthood, 'If I ever become a saint I will surely be one of darkness. I will continually be absent from heaven – to light the light of those in darkness on earth', saying that this reflected on the kind of life she had lived.
"What can Mother Teresa possibly have meant when she said that if she were to become a saint she would be continuously absent from heaven?" the Archbishop asked.
"Of course she was not speaking literally but figuratively.
"In a sense it seems to me she was trying to say that what had been at the core of her life on earth – to see and serve Jesus in the poorest and most abandoned of people – would continue to be at the core of her life in heaven. Her passionate love for Christ always found expression in her tender love for the discarded and forgotten people. It was her way to heaven, and it is her way in heaven," he said.
The following day, an official ceremony of canonisation was held at St Peter's Square in Rome, with Pope Francis declaring Mother Teresa a saint and acknowledging her work with the poor, sick and needy before an estimated crowd of 120,000.