BLESSING OF CATHOLIC HOMES: Ensuring the elderly have their rightful place at the table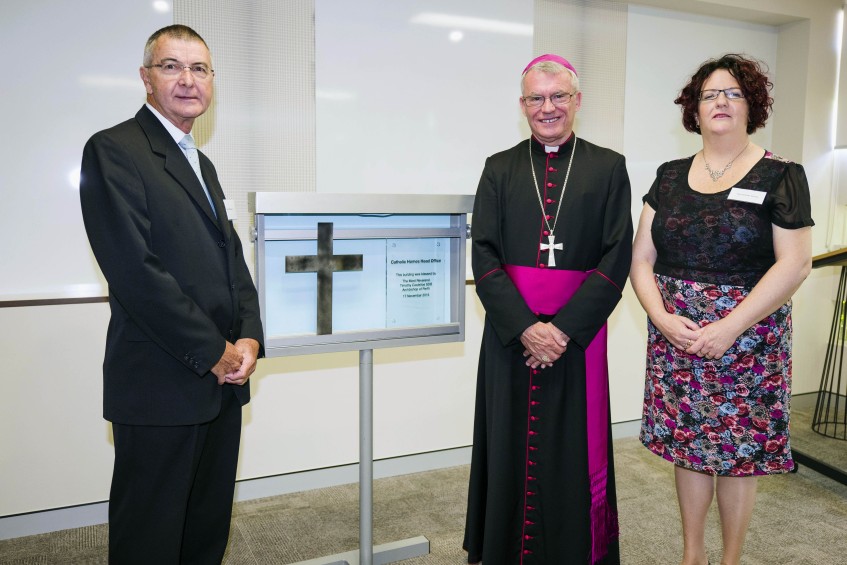 Archbishop Costelloe stands with Catholic Homes Chairman, Peter Messer and Catholic Homes' Executive Manager of Mission, Bernadette Brady next to the unveiled plaque at the new Burswood Catholic Homes Head Office. Photo: Supplied
By Marco Ceccarelli
Almost two months after the release of the 2016 ACBC Social Justice Statement, A Place at the Table, which celebrated "the great success story of our ageing population," Archbishop Timothy Costelloe blessed the new Burswood Head Office of Catholic Homes, a Christian based, not-for-profit aged care organisation.
The blessing took place on 17 November and coincided with the one-year anniversary of the new office's grand opening.
Praising the organisation's approach to caring, Archbishop Costelloe spoke of the values on which Catholic Homes is founded and highlighted the importance of hospitality and dignity when dealing with Australia's ageing population.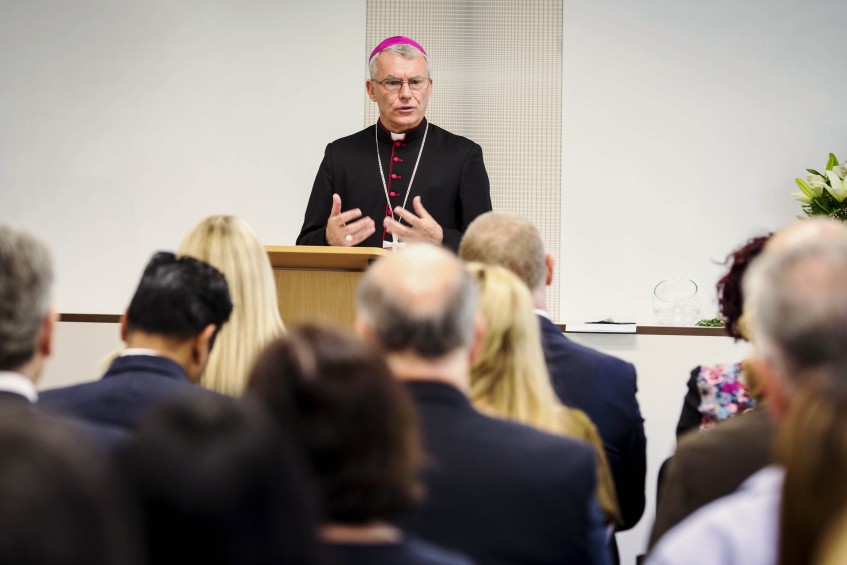 In his brief address, Archbishop Costelloe spoke of the values on which Catholic Homes is founded and highlighted the importance of hospitality and dignity when dealing with Australia's ageing population. Photo: Supplied
"Your values of joy, love and hospitality are a true statement of what Catholic Homes is all about. You have made hospitality your speciality," Archbishop Costelloe said.
"Catholic Homes has captured what we would like a carer for the elderly to be, as well as having a special focus on maintaining dignity; that is a core value to the Catholic faith."
The Archbishop's words were followed by those of Chairman of Catholic Homes, Peter Messer, who spoke of the organisation's impressive growth from only one residence in 1965 to the formidable seven residences, four retirement living villages, the Care at Home service and the Day Therapy Centre it has today.
"In 2013, the board recognised that in a complex funding and operating environment, there was a need for Catholic Homes to have a purpose built head office," Mr Messer said.
"We are standing here today in what has become the central point for ensuring Catholic Homes can grow and develop to meet its vision of being first choice in aged care."
Mr Messer also spoke of Catholic Homes' model of care, 'Care with Purpose', and its alignment with Montessori principles to care for people living in the organisation's residences.
The model aims at supporting people to achieve their potential and is centred on knowledge of the person's past, their current abilities and physical, social and emotional needs.
"This award winning model encourages and supports people to remain active and valuable members of their community. It is a model unique to Catholic Homes in Western Australia and it is proving extremely successful in managing the challenges inherent in aged care and in particular people living with dementia," Mr Messer said.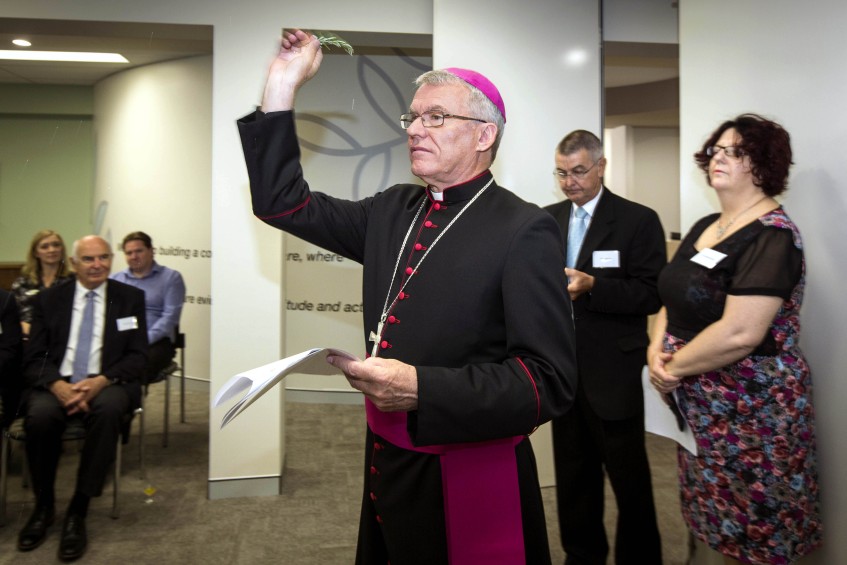 Archbishop Costelloe blessed the Catholic Homes Head Office on the one-year anniversary of its opening. Photo: Supplied
He also stated that the first year in the new head office had been an exciting one and commended the large in-house training facility as being highly useful for internal training and for other organisations to hire and support their own growth and development.
The event concluded with Catholic Homes' Executive Manager of Mission, Bernadette Brady, who led the opening prayer and welcome at the ceremony, thanking Archbishop Costelloe for his presence at such a special occasion and for his blessing of the building.
A plaque commemorating the blessing of the building was unveiled by Archbishop Costelloe, Mr Messer and Ms Brady.
At the local launch of A Place at the Table, Perth Auxiliary Bishop Donald Sproxton highlighted the need for the Perth community to support and value older people in Australian life, while fighting the 'throw-away' culture that threatens their sanctity and dignity.
As a growing organisation that currently cares for over 340 residents and employs approximately 395 highly skilled and passionate staff across a range of disciplines, Catholic Homes has set out to do just that.
Catholic Homes has been caring for ageing Western Australians for more than 50 years. Its first priority is happiness, wellbeing and the creation of an environment of love, trust and respect for those in its care.
Catholic Homes' innovative and proactive approach to care earned it two Better Practice Awards in 2015 for its care model and the Circle of Men project – a support and social group for men in aged care.
For more information please visit: http://www.catholichomes.com