Celebrating 60 years of faith, providence and history. Maida Vale parish reaches significant milestone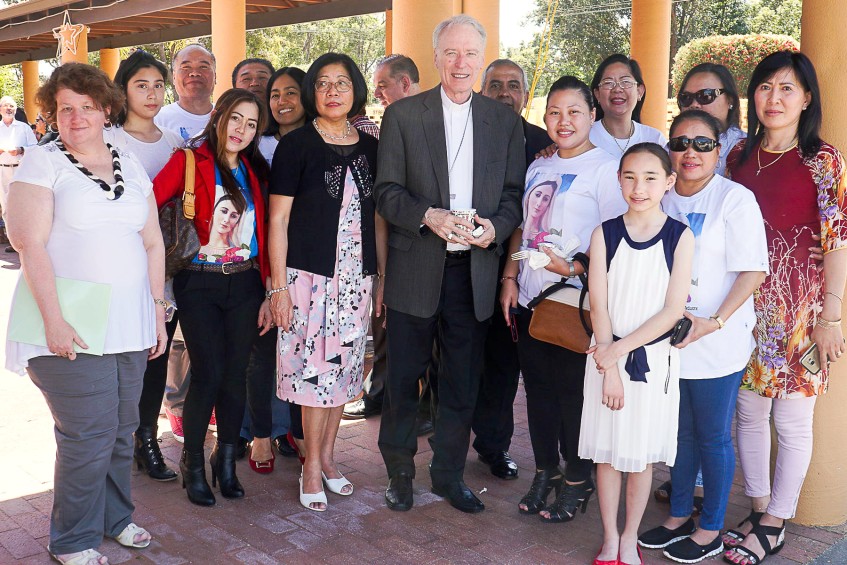 Auxiliary Bishop Donald Sproxton with St Francis of Assisi parishioners on the occasion of the parish's 60th anniversary. Photos: Supplied
By Marco Ceccarelli
A true sense of pride and gratitude for what God has done with St Francis of Assisi Church in Maida Vale could be sensed on Sunday, 23 October as scores of current and former parishioners celebrated the parish's 60th Anniversary.
Attendees were honoured to have Perth Auxiliary Bishop Donald Sproxton preside over the special Mass and appreciate a carefully constructed photo exhibition covering the parish's 60 years.
Bishop Sproxton, who was assisted during the Mass by Parish Priest, Fr Francis Ly, and Permanent Deacon, Trevor Lyra, commended the parish for its rich history and referred to founding parish priest, Fr Dario Brunetti as an exceptionally talented individual not just in his ministry but as a culinary chef.
The special event was also characterised by the efforts of a number of parishioners who showed their love for the parish through gifts, donations and hard work. A book of the parish's history, compiled by parishioner Philomena Theseira, was blessed by Bishop Sproxton and certificates of appreciation for building the new Piety Shop were handed to parishioners Joe Kaciuba and Maurice Castelli.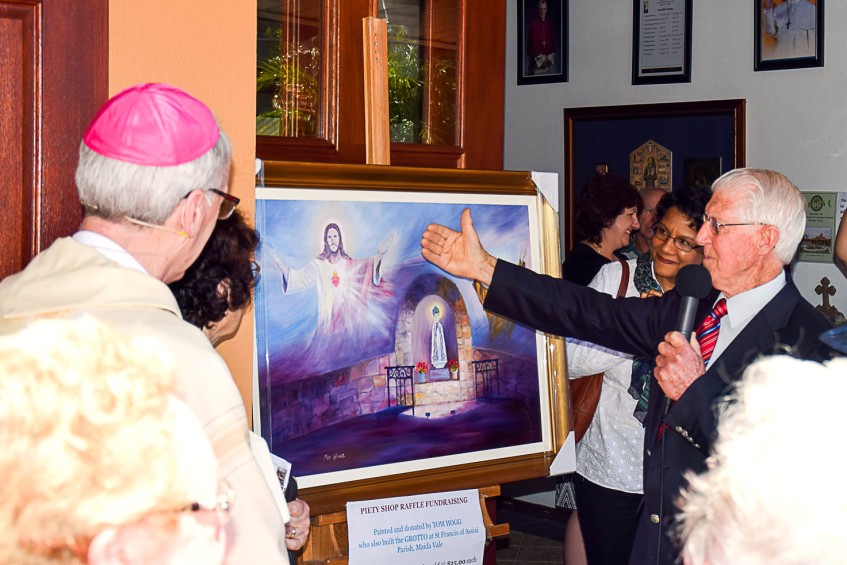 Parishioner of St Francis of Assisi in Maida Vale and talented artist, Tom Hogg, shows Perth Auxiliary Bishop Donald Sproxton his painting "The Grotto of St Francis of Assisi" at the 60-year-anniversary of the parish on 23 October 2016. Photo: Supplied
A beautiful painting entitled Grotto of St Francis of Assisi, painted and donated for the raffle draw by parishioner Tom Hogg, made its way to the walls of the newly opened and blessed Piety Shop after it was won and donated to the parish by Caroline D'Cruz.
During the festivities which ensued, Bishop Sproxton became acquainted with the parishioners before cutting the a special 60th anniversary cake.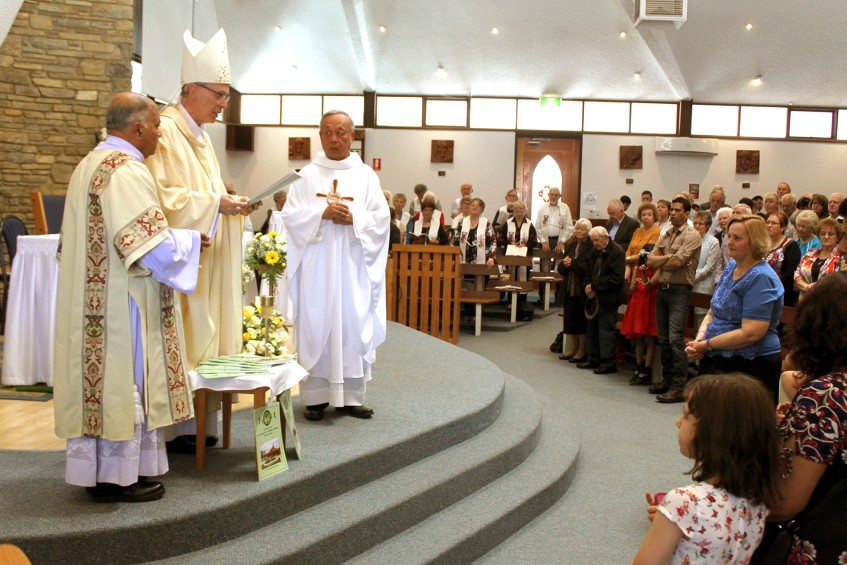 Auxiliary Bishop Donald Sproxton blesses the 60th anniversary history books at the special Mass on 23 October next to Parish Priest, Francis Ly, and Permanent Deacon Trevor Lyra. Photo Supplied
History of St Francis of Assis Parish – Maida Vale
While the very first mass in what was then known as The Chapel of St Francis of Assisi was celebrated by Fr Francis Ryan on 18 June 1950, the Parish of Maida Vale was born on 23 October 1956 and was initially led by Fr Dario Brunetti. After much fundraising, a larger chapel was built and was blessed by Archbishop Redmond Prendiville on 11 August 1957.
In 1967, the parish was given to the pastoral care of the Camillian Order as they were developing a nursing home called Mount Saint Camillus in Forrestfield. Fr Sean Bredin O.S.Cam was introduced to the parish, and with him a new dimension of parish life began. A proposal to include a more lay participation in the Church saw the birth of a Maida Vale Pastoral Parish Council in 1968 and plans to build a "bricks and mortar" parish were drawn. This resulted in construction of the new Church and its blessing and opening by Archbishop Launcelot Goody on 30 March 1973.
In July 1974, Fr Bredin was replaced by Fr David Egan O.S.Cam. His duties, as those of his predecessor, encompassed both Parish work and the administration of the nursing home.
Due to ill health, he was replaced by Fr Brendan Conway O.S.Cam in 1975. Father Conway made significant improvements to the grounds of the parish, organised the building of a new presbytery and parish centre and revitalised the Youth Club.
Former parish priest of Kellerberrin, Fr Patrick Turner, would succeed Fr Conway and be the first to suggest that a Catholic primary school be built next to the parish. With Archbishop William Foley's approval, an Interim Board was set up in 1990 and Matthew Gibney Catholic Primary School was officially opened and blessed by Archbishop Hickey in September 1991.
From December 1994 to October 1998, Fr Patrick Russel was at the helm of the parish. He was commended for his work in the new school and for focusing on the exposition of the Blessed Sacrament. Fr Russel was assisted by Sister Benedict Mansfield who would help with visiting sick and needy and the education in faith for children of the parish who attended state schools. He was succeeded by Fr Simon Carson who led the parish for two years (1999 to 2000), Fr Stephen Durkin (2000 to 2010) – a much loved priest known for his dedication to parishioners, love of animals and renovation of the parish – and Fr Elver Delicano (2010 to 2015).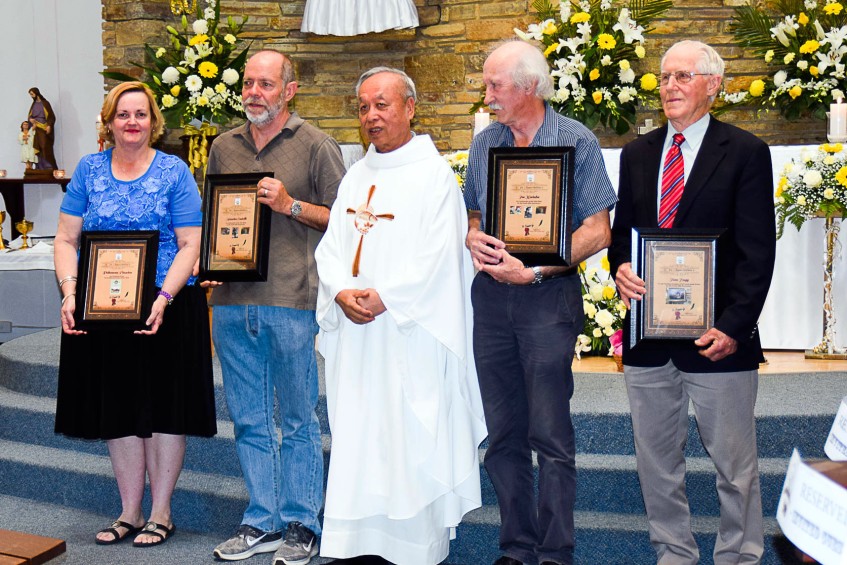 (L-R) Philomena Theseira, Maurice Castelli, Fr Francis Ly, Joe Kaciuba and Tom Hogg received certificates of appreciation for their work in the parish. Photo: Supplied
Current parish priest Fr Francs Ly joined on 27 January 2015 and has since upheld a long line of exceptional shepherds in the parish who have focused on the wellbeing of the faithful, supporting the youth and announcing the Gospel.
Permanent Deacon Trevor Lyra and his family have been of great support to Fathers Durkin, Delicano and Ly at the Maida Vale parish.
Information courtesy of Philomena Theseira