Southern Cross Care shines brightly for half a century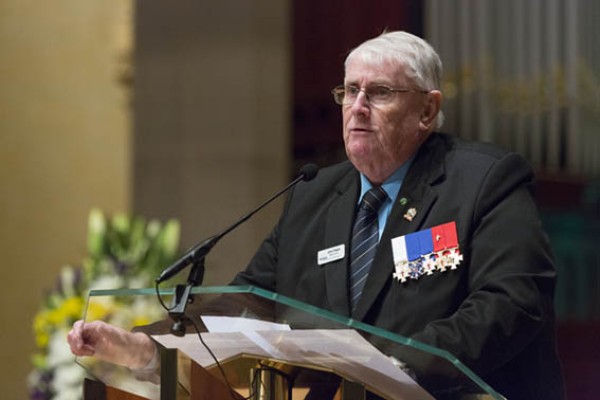 John Dwyer, State Chairman of the Knights of the Southern Cross, addresses the congregation at the Southern Cross Care 50th Anniversary Mass. Photo: Ron Tan
Southern Cross Care has been likened to a light in the darkness by Emeritus Archbishop Barry Hickey during a Mass to celebrate the aged-care organisation's 50th anniversary.
About 250 people attended the Mass at St Mary's Cathedral on Thursday, 21 July, including Knights of the Southern Cross, present and past board members, staff, volunteers, family and friends.
Southern Cross Care was established as Southern Cross Homes in 1966 by a group of men from the Order of the Knights of the Southern Cross in WA and is, today, one of Western Australia's leading aged-care providers.
The determination and commitment of those men – Joseph A Cooke, Norm Dallimore, J Roy Fergusson, Gerard G Pilkington, Colin Pollett, Bernard F Prindiville, Francis J Townsend, John W Wall and Vincent T Davidson – have left an incredible legacy.
Southern Cross Care currently supports more than 3,000 Western Australians through a range of services, including aged care; dementia, disability and mental health care; respite; retirement villages; accommodation; residential care and ageing in place.
The Mass was celebrated by Emeritus Archbishop Hickey who, during his homily, reflected on the First Reading from the Book of the Prophet Isaiah (58:7-10).
He said Isaiah spoke of the importance of showing love and mercy – an appropriate theme during this Jubilee Year of Mercy.
"If we are to be loyal servants of Almighty God, not only should we pray to and worship Him with our voices, but also with the way we relate to one another other, especially to the poor," he said.
Jesus Christ preached this Himself, Emeritus Archbishop Hickey said, when He told His disciples to love God and love one another.
"Loving one another means to go beyond one's own circle, to look out for those who are poor, and needy, and sick, and imprisoned: Southern Cross Care has answered that call," he said.
Emeritus Archbishop Hickey also drew attention to Isaiah's beautiful phrase which says that, for those who show love and mercy to others, "your light will shine like the dawn".
He encouraged the congregation to take up their role as carriers of this light, the light of God.
"If we are to be witnesses to Jesus' teachings, we must be a light to the world, just as He is. That light is not to be hidden. The world needs to know about Jesus, the world needs to know about His teachings," he said.
At the end of the Mass, John Dwyer, State Chairman of the Knights of the Southern Cross, made a short speech thanking all those who have contributed to the organisation over the past 50 years.