Sister Margaret sees hope within the turmoil of South Sudan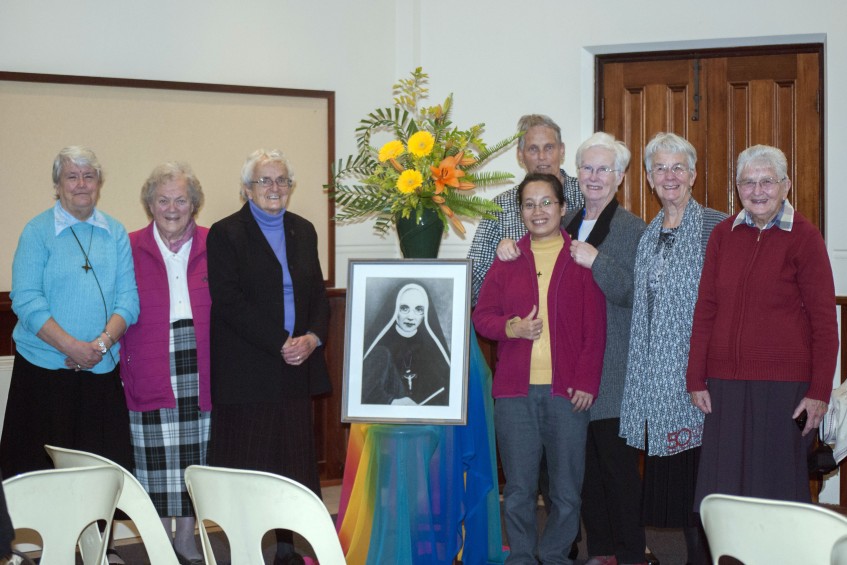 Sisters Margaret McInerney (Kenya), Marie Therese Ryder, Veronica Martin, Margaret Scott (Back), Phan Yen (Vietnam) Madeleine Barlow, Shelley Barlow and Frances Wilson at the talk presented by Sr Margaret. Photo: Supplied
By Caroline Smith
Despite continuing conflict and civil war in South Sudan, the country's people – particularly the young – have hope for the future, with education a particular focus.
This was the message of Sister Margaret Scott RNDM, who was visiting Perth recently to speak of her experiences as principal of a teacher training college in the town of Yambio, and her work with a group of religious and some lay people who have come together under the group named Solidarity with South Sudan.
Addressing a room of people at Highgate's Catholic Pastoral Centre on 19 June, Sr Margaret said that, despite tribal conflict between the different tribal groups, the college strove to bring people together.
"We talk about them coming together in solidarity as one – they are brothers and sisters together," she said.
"We really try and work with them around the issue of leaving their tribalism at the gate and being together."
The training college was set up eight years ago by Solidarity with South Sudan, including the Sisters of Our Lady of the Missions, of which Sr Margaret is a member. She told attendees of its development, including plans for a library attached to the current compound.
However, Sr Margaret highlighted that the college faced some challenges with a continuing civil war and armed conflict causing fear among local people, staff and students.
"We ended up with our state being very insecure," she said.
"In our area at night, there were no men – they would be hiding so they wouldn't be taken by the Rebels.
"Our compound manager, a young man, would come and sleep at our house every night – people were living in fear."
This situation prompted the government to place a curfew on the region, initially starting from 10pm, but later pushed back to 6pm until 6am when fighting intensified.
"I was responsible for about 100 students, and they were terrified," Sr Margaret said.
"When they heard gunshots outside, they wanted to run. So it was very difficult for us."
However, the compound itself was lucky to avoid being targeted until December last year, when a group of men broke in and assaulted several of the Sisters.
"Young men with guns came and threatened our Sister who was locking up: they demanded phones, computers, money and vehicles," Sr Margaret explained.
One of the Sisters who was badly hurt decided to return home to the United States after the attack, but said she felt no bitterness towards the local people, who had themselves been targeted in similar incidents.
"Many of the local people knew something had happened – they had been attacked by these boys and been told to lie on the ground and had their phones taken off them," Sr Margaret said.
"Afterwards, they came in to express their sorrow at what had happened."
Despite these travails, the college would continue to operate, providing students with a two-year teaching qualification and English classes, she added.
"We have 119 students in the college doing pre-service – about 20 of them will finish at the end of June, and they will have their graduation ceremony," Sr Margaret said.
"We have an intake in March and an intake in July.
"These students and young people, they want to do something for their country, they want to teach and help out their younger brothers and sisters and, if they keep on with that attitude, things will change."