Archbishop Costelloe tackles youth issues in Subiaco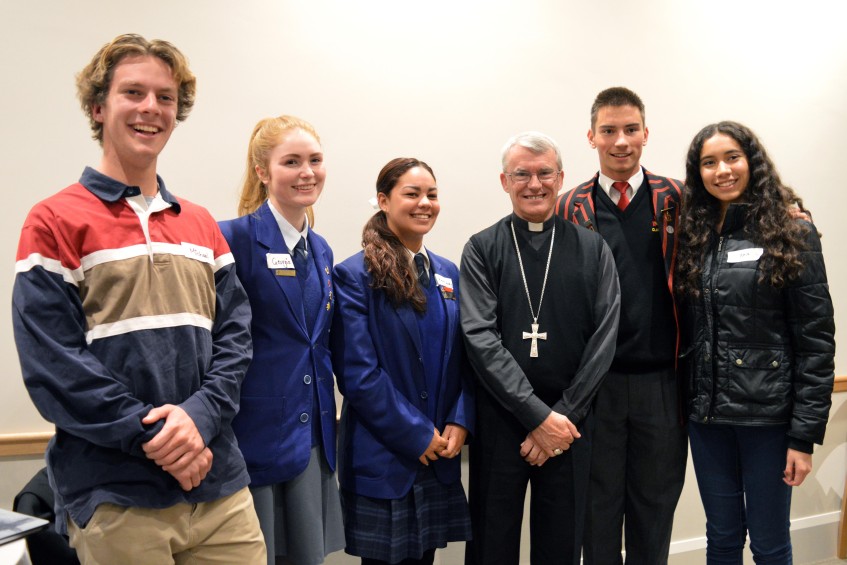 Archbishop Timothy Costelloe SDB, pictured with representatives from John XXIII College, Newman College, Aquinas College, Aranmore College and Santa Maria College, after the dinner and Q&A session hosted by the St Joseph's Church Subiaco Youth Group. Photo: Feby Plando.
By Feby Plando and Rachel Curry
Perth Archbishop Timothy Costelloe SDB has last weekend addressed the pressing questions of young Catholics at a special event hosted by the St Joseph's Church Subiaco Youth Group.
More than 70 people attended the dinner and Q&A session on Sunday, July 3, which was organised by Paul Curtis and Jessie Diamond and Subiaco Parish Priest, Father Joe Walsh.
Archbishop Costelloe was asked questions on a number of topics from the young people in in the room, ranging from the role of youth in the Archdiocese to the state of Catholic education and the challenge of the proposed same-sex marriage plebiscite.
One of the more personal topics the Archbishop broached was his own discernment and his advice for young people in developing a connection with God.
He said it was still a mystery to him why God played such an important role in some people's lives and not in others.
"For example, I'm one of two; I'm the younger of two boys. My brother's a couple of years older than me so we're pretty close in age," he said.
"Same parents, same upbringing, same schools, pretty well same everything and he would not have anything like the interest in religion or Church or God that I do."
Archbishop Costelloe said that when he looked back, there were two factors in his life which made him want to become a priest.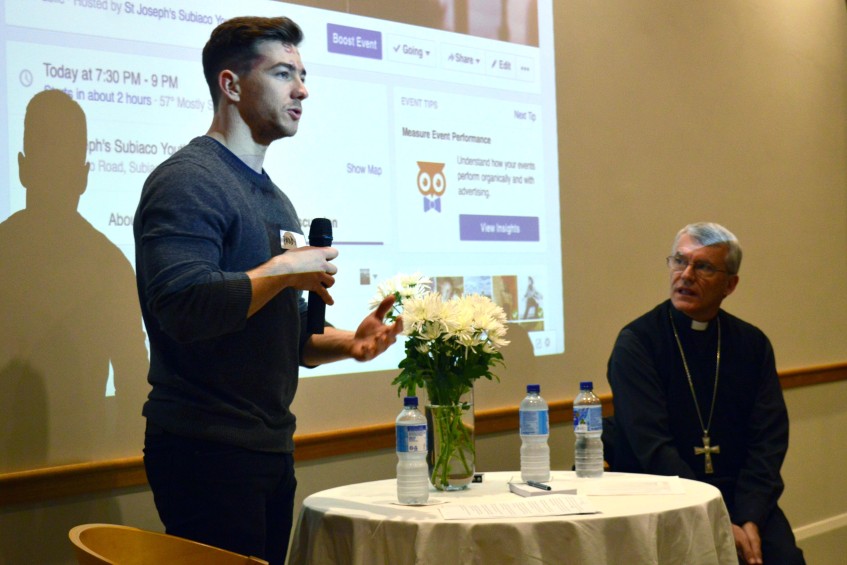 MC Paddy Dodd introduces Archbishop Timothy Costelloe SBD at the dinner and Q&A session hosted by the St Joseph's Church Subiaco Youth Group. Photo: Feby Plando.
One was his encounter with a very friendly and kind priest in his parish whom he wanted to emulate, and one was his reaction to a statue of St Anthony of Padua with the Child Jesus, which helped him realise that he should pursue a personal relationship with the Lord.
"In one way, it's hard to pinpoint, isn't it, why it is that God seems to matter in some people's lives and not so much in other people's lives," he said.
"But I think that's the way God calls people. He calls some people and makes Himself very real to them so that through them, He can be present to other people."
Archbishop Costelloe also shared an amusing anecdote about the day he was asked to be a Bishop.
He recalled that after seeing that he had a voice message from Australia's Apostolic Nuncio, his first thought was, "What have I done?"
Fortunately, the matter the Apostolic Nuncio wanted to talk to him about was a positive one – whether he would become an Auxiliary Bishop of Melbourne.
Earlier, Archbishop Costelloe was asked by one of the young people in attendance about Catholic youth groups and how strictly their activities should be managed by the Archdiocese.
Archbishop Costelloe said his role was to oversee what was happening around Perth, not to micromanage it.
Nevertheless, he encouraged young people to keep in touch with the Archdiocese's Catholic Youth Ministry Office.
"There has to be room for initiative, there has to be room for creativity, there has to be room for spontaneity, but with all that at the same time we have to somehow or other make sure we hold it together as different expressions of the one Catholic thing," he said.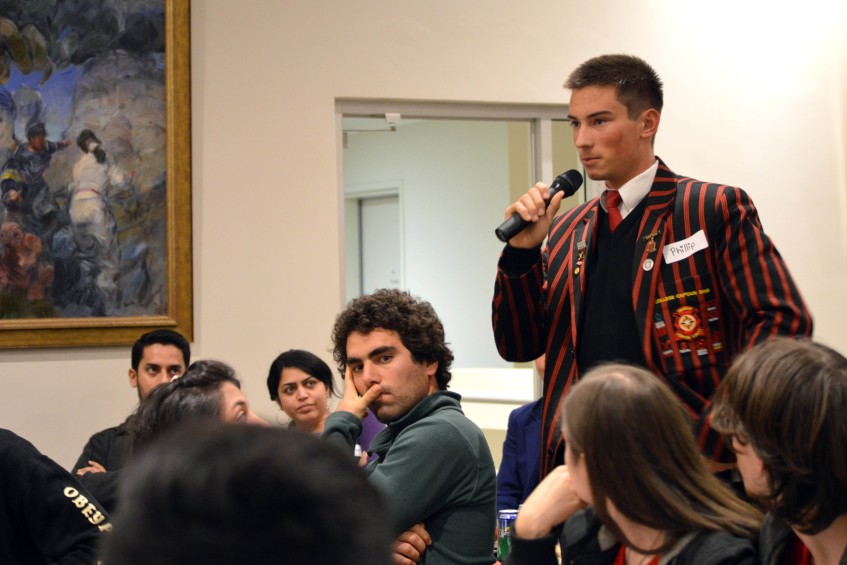 Head Boy of Aquinas College, Phillip Colic, asks Archbishop Costelloe SDB a question on whether religious education should be compulsory in all year levels in Catholic schools. Photo: Feby Plando.
The last question of the night was a challenging one, which asked how young Catholics should respond to suggestions that the Catholic liturgy was boring, especially in comparison to other Christian churches.
Archbishop Costelloe said the Church needed to do better to ensure liturgies and homilies were not "as dead as a doornail".
However, he also encouraged people to look beyond the surface level of faith to gain a deeper understanding.
"It's much better to go to a Christian celebration that makes you feel good than to go to one that doesn't, but feeling good is not ultimately why we go to Church," he said.
"For me as a Catholic, the things that are most precious to me are the reality of the sacramental life of the Church, for example, especially the reality of the Mass and the Eucharist, and I don't want to be unfair to the other churches, but no amount of good music or high powered preaching would ever be able to make up of loss of the Eucharist if I were to leave the Catholic Church and go somewhere else."