Jesuit priest ponders big questions at St Benedict's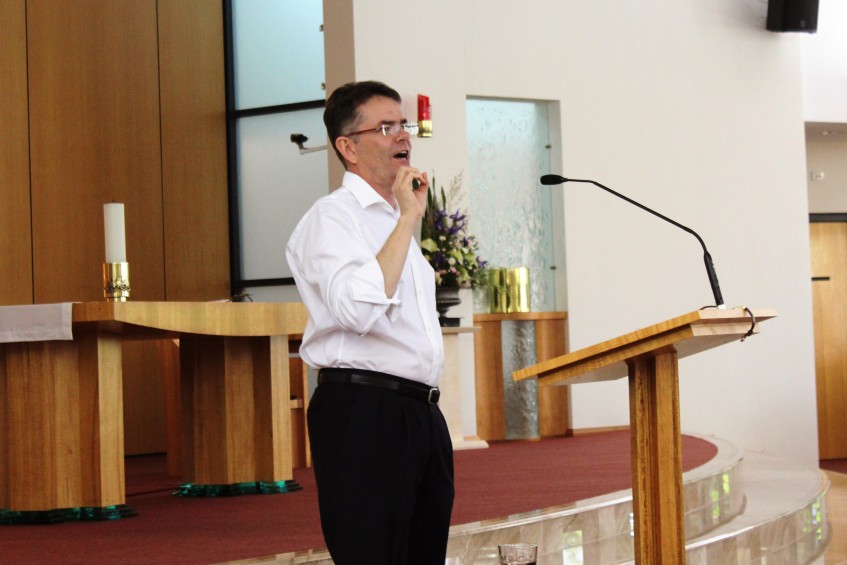 Renowned Jesuit priest Father Richard Leonard SJ addresses the age old question, "Why does God let bad things happen?" during his visit to Applecross Parish on Saturday, 10 December. Photo: Supplied
By Rachel Curry
It is the question that even the most faithful Catholics will ask during their lifetime: Why does God let bad things happen?
According to renowned Jesuit priest Father Richard Leonard SJ, who tackled the tricky topic during his recent visit to Applecross Parish, we are actually asking the wrong question.
The holder of several degrees including a PhD from the University of Melbourne, Fr Leonard is the Director of the Australian Catholic Office for Film and Broadcasting, the author of nine books and an in-demand lecturer on faith and culture all over the world.
His recent visit to St Benedict's Church on Saturday, 10 December, saw him deliver two talks to some 130 attendees: From Darkness into the Light and Making the Best Choices in my Life in the Light of Faith.
During his first address, he shared a very personal story about how his sister Tracey was involved in a car accident some 28 years ago, which left her a quadriplegic.
Tracey had previously spent three years nursing the poor at Mother Teresa's House of the Dying in Calcutta before assisting the Sisters of Our Lady of Sacred Heart to run a health centre for Aboriginal people in the Northern Territory.
For something so terrible to happen to such a selfless person was baffling to Fr Leonard's mother.
Even Fr Leonard was left confronting his own beliefs, he said, and the letters he received following the accident did nothing to ease his anguish.
Some people suggested that Tracey must have done something to deserve God's punishment, some remarked that she would be rewarded greatly in heaven for her suffering, and others stated that "God only sends the biggest crosses to those who can bear them".
"Years later, I am very grateful to the correspondents who wrote to me after my sister's accident," Fr Leonard told attendees.
"They have alerted me to how often we hear some terrible theology which does not draw people to God in the worst moments of our lives."
What did help Fr Leonard hold on to his faith through this dark period was his belief that God does not directly make bad things happen, either to punish us or to teach us lessons.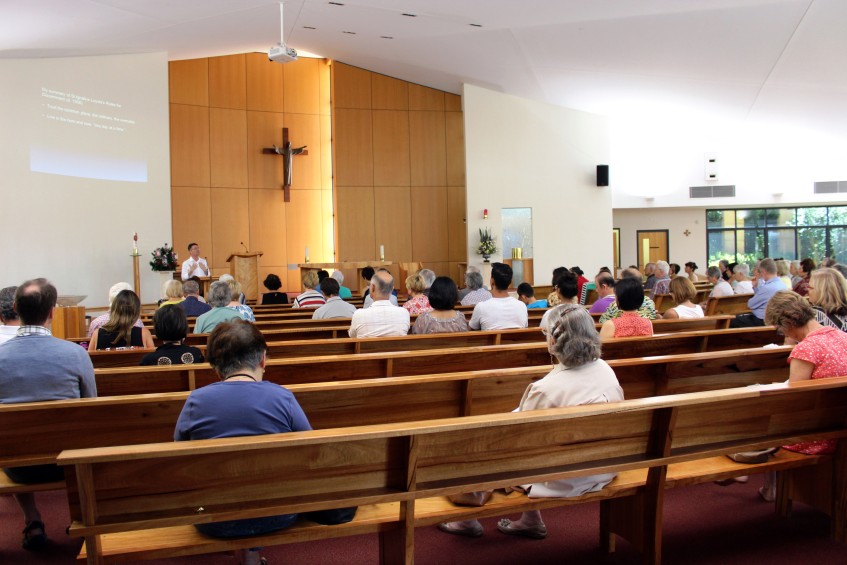 Some 130 people listen to renowned Jesuit priest Father Richard Leonard SJ as he delivers two talks, From Darkness into the Light and Making the Best Choices in my Life in the Light of Faith at St Benedict's Church. Photo: Supplied
Such actions cannot be in the nature of God, he said, because through Jesus, God is revealed as being "about life not death, construction not destruction, forgiveness not retribution, healing not pain".
Instead, Fr Leonard came to recognise that God's will can be found more in the big picture than in the small.
"God has created a world which is less than perfect, or else it would be heaven, and in which suffering, disease and pain are realities. Some of these we now create for ourselves and blame God," he said.
"I have lost count of the number of people who have said to me, 'I cannot believe in a God who allows famines to happen'. I think God wonders why we let famine happen.
"God is responsible for allowing the evolution of a world within which the effects of moral and physical evil can create injustices.
"But God is not responsible because we refuse to make the hard choices that would see our world transformed into a more just and equal place for everyone."
Removing God as the cause of everything that happens in our lives does not mean we have to think of Him as remote or aloof, Fr Leonard concluded.
"Indeed, I am passionate about God's personal love and presence," he said.
"God waits patiently for an invitation to enter our lives at whatever level we want. Christ meets us where we are, embraces us and holds us close when the going gets tough, and helps us find the way forward, even and most especially on that last day when we find the way home."
Fr Leonard also explored the topic of discernment and decision-making in line with the Gospel during his visit.