Walking in the shadow of the Good Shepherd – Gattline celebrates 25 years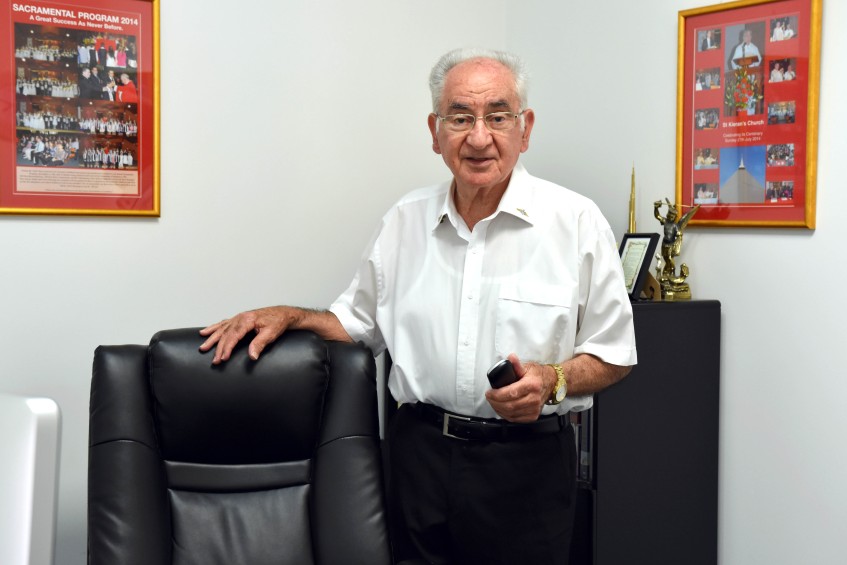 Father Michael Gatt is celebrating 25 years of his telephone helpline (Gattline), which was set up in 1991 to offer support to people experiencing loneliness, stress and other problems during the festive period. Since 2015, he has extended the service so that it is open all year round. Photo: Caroline Smith
By Caroline Smith
For many people, Christmas is a joyous time, when family and friends gather in the spirit of the season and to care for one another. For others, however, it can be a time of loneliness and stress, when they might need some extra support and advice.
It is with this in mind that Perth retired priest, Father Michael Gatt, set up a telephone helpline 25 years ago, allowing him to bring his experience as parish priest and air force chaplain to the fore, providing callers with support, information and a listening ear.
The Gattline – as it is known – has been operating since 1991, and initially ran only from 1 to 31 December, with Fr Gatt receiving approximately 100 calls each year from people around Australia and even overseas.
However, following his retirement from St Kieran's Parish in Osborne Park in 2015, he extended it to become an all-year-round service.
Looking back on the numerous instances where he succeeded in helping someone in need, Fr Gatt said the most important thing was maintaining a conversation with people, and letting them know they were not alone.
"There was one woman who called me in the evening, and didn't introduce herself, and I thought she was ringing me locally, but then she told me she was ringing from Canada," he said.
"I told her, it's too expensive for you to be calling me, so send me an email, and so we corresponded for many months after that.
"She told me she had a breakdown, but I counselled her and we became good friends. I'm still in touch with many of these people; some of them have known me for 20 years."
Whenever necessary, he directs his callers to other people and services, such as psychologists or doctors, who can provide further help.
Along with his work on the helpline, Fr Gatt has a long and distinguished career serving parishes in Western Australia, starting from his arrival in Perth from Malta in 1971.
He has been based at parishes in Swanbourne, Victoria Park, Moora, Gingin-Chittering, Manning and finally Osborne Park, where he retired after 15 years of service.
In addition, he has served as chaplain at Pearce Royal Australian Air Force (RAAF) Base, following his own service in the Royal Air Force (RAF) from 1957-59.
Fr Gatt can be reached on his helpline 24 hours a day, on 9440 5379, or at gattline@bigpond.com.