2016 ARCHBISHOP'S CHRISTMAS APPEAL FOR LifeLink: Identitywa and Personal Advocacy Service prepare for the birth of Jesus with a Mass and Christmas Party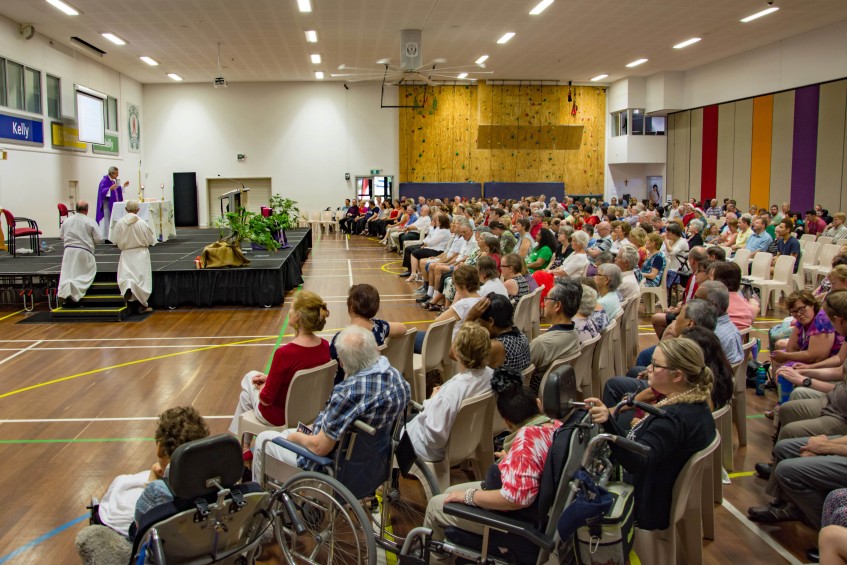 More than 380 people attended the Identitywa and Personal Advocacy Service annual Mass, which was held within Santa Maria College, Attadale and celebrated by Father Nino Vinciguerra. Photo: Supplied
LifeLink supported agency Identitywa, joined Personal Advocacy Service on Saturday, 10 December for the annual Mass celebrating both the season of Advent and the commitment of the two agencies' dedicated staff and supporters.
Held on the Santa Maria College grounds in Attadale, the Mass was attended by more than 380 people and was celebrated by Catholic Education WA and Saint Vincent De Paul Society WA Chaplain, Father Nino Vinciguerra.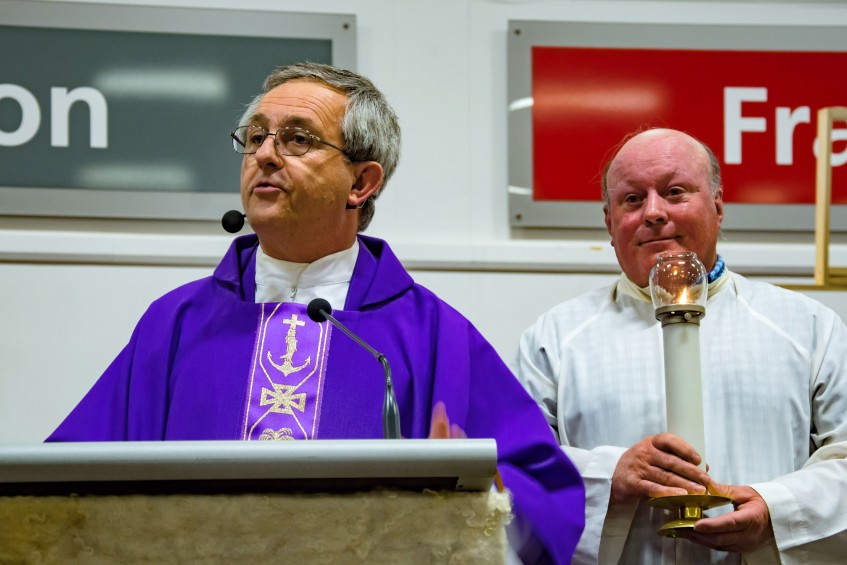 Fr Nino Vinciguerra speaks at the Identitywa and Personal Advocacy Service annual Mass. He is assisted by Danny Wilkie, who has significantly benefited from Identitywa's services. Photo: Supplied
Members of the congregation were welcomed by former Chair of the PAS Board, James Malone, and actively participated in all aspects of the liturgy, from the Entrance Procession to leading the Responsorial Psalm and the Offertory Procession.
As in previous years, the Mass featured the lighting of the Advent Candle within the Advent Wreath – a particularly significant moment within the liturgy which symbolises Jesus as the light that is to come into the world.
Traditionally, Advent Wreaths are constructed in churches and homes during the Advent season. The wreaths are made of evergreen branches into which four candles, three purple and one rose, are inserted, representing the four weeks of the season.
The purple candles in particular symbolise prayer, penance and preparatory sacrifices undertaken during Advent. The rose candle, however, is lit on the third Sunday of Advent, also known as Gaudete Sunday (from the Latin, 'rejoice'), when the priest also wears rose vestments at Mass.
With Identitywa having an outreach program for people with disability which includes administering group homes for some of these people, and Personal Advocacy Service having a mandate to assist people with intellectual disability to develop their faith life and integrate more completely into their parish community, there is a synergy of interest between the two agencies. Consequently, they have over the years combined their Christmas celebration with PAS organising the mass liturgy and Identitywa in control of the lunch.
The lighting of the Advent Candle within the Advent wreath holds particular significance, as it symbolises Jesus as the light that is to come into the world. Photo: Supplied
Commenting on the event, Identitywa CEO Marina Re said she was delighted with the number of people who attended and attributed the great turnout to the dedication and commitment of those who work and support Identitywa and PAS.
"It was once again a very successful occasion which reflected the commitment which goes into making the annual Mass and Christmas Party so enjoyable for everyone," Ms Re said.
"We are indebted to PAS who strive for an inclusive and meaningful celebration which they most certainly delivered. It is a great collaboration between PAS and Identitywa and we are keen to continue with this."
Following the Mass, guests were invited to take part in an abundant lunch organised by Identitywa.