EXCLUSIVE: Notre Dame Australia and Catholic Education WA launch new course in Catholic Leadership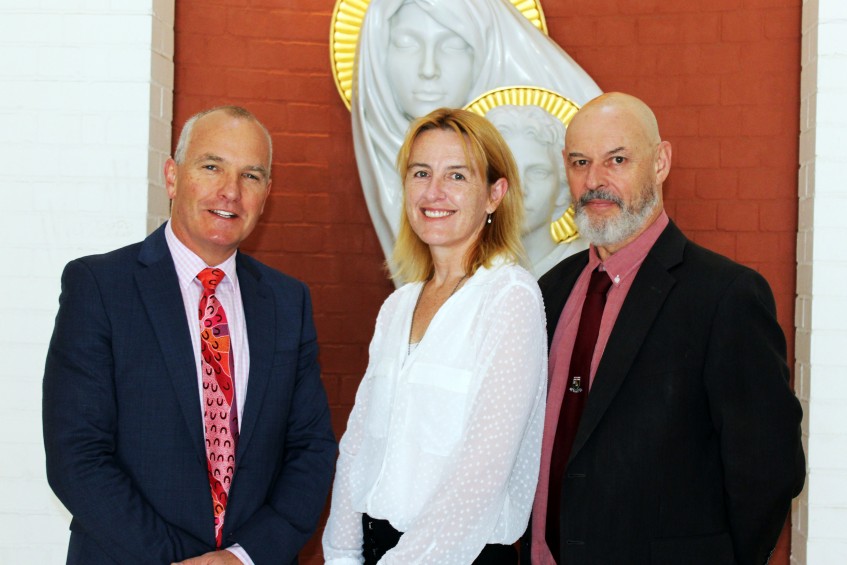 Catholic Education WA Executive Director, Dr Tim McDonald, UNDA Vice Chancellor, Prof Celia Hammond and UNDA Acting Dean of the School of Business, Chris Mawson, at the launch of the new postgraduate program designed to give aspiring leaders added management and theoretical skills to pursue a career in the Catholic business sector. Photo: Supplied
A postgraduate program designed to give aspiring leaders added management and theoretical skills to pursue a career in the Catholic business sector has this week been launched at The University of Notre Dame Australia's (UNDA) Fremantle Campus.
In launching the new course, which will be delivered in conjunction with Catholic Education Western Australia (CEWA) through the Notre Dame University's School of Business, UNDA Vice-Chancellor Professor Celia Hammond said the University is hoping that this particular course will bridge a gap and provide a path for those who work in Catholic organisations.
She also stated that she hopes the course will build their understanding of Catholic social teaching to a level equal to their confidence in their professional skills and knowledge.
Professor Hammond went on to acknowledge CEWA Executive Director, Dr Tim McDonald, Learning and Development Consultant, Dr Shane Glasson and Director of Religious Education, Dr Debra Sayce.
"The reason why I want to acknowledge them is not solely based on their work over the past 18 months, because this course has been a long time coming. We believe, that in partnership with CEWA, we've now been able to develop something through our Schools of Business, Education and Philosophy & Theology that is an excellent offering."
Professor Hammond explained that there are thousands of people working in the Catholic education system and in health care, disability services, homeless and refugee services, aged care and advocacy that are mainly staffed and governed by lay people; lay people with great talent, great skills and with great professionalism and with great commitment and dedication to the missions of their organisations.
"This course aims to merge the most up-to-date scholarship and understandings in leadership and business practices in management and place them within the context of Catholic faith and Catholic social teaching," Prof Hammond said.
"Particularly for teachers in the Catholic education system, that they can build their expertise and knowledge of business practices so that they can feel confident and comfortable in this world.
"This course is about empowering everybody to have a better understanding of 'the whole' – so that they can confidently step up and step in when it is their time," Prof Hammond said.
Also speaking at the launch, Dr McDonald said that the new course is exciting because we know, if we listen to Pope Francis, that we're not just in an era of change but in a change of era.
"In Catholic Education we have to do things differently. We can't educate in a way that we've educated before," Dr McDonald said.
"We need to collaborate differently for a different world.
"I am so impressed and proud of the outcome that I'd like to thank Professor Hammond for your visionary leadership in enabling this to happen.
"We could have easily gone on with what we've already got, but I think there was a mantra of, we haven't got that yet, let's see if we can create something new and I really appreciate your leadership."
Students who graduate from the Certificate in Catholic Leadership will be equipped to apply contemporary leadership and management concepts to facilitate effective governance, performance, change management and integration of faith-based values within service-oriented Catholic organisations. Some career paths include education, not-for-profit groups and charities, health care, social justice and diocesan roles.
"The Graduate Certificate in Catholic Leadership is just one of a range of disciplines offered by Notre Dame's School of Business that are taught by leaders in their fields who have profound commercial and industry experience. Our postgraduate programs are relevant, contemporary, and embrace today's rapidly changing global environment while maintaining academic rigour," said Acting Dean of the School of Business, Chris Mawson.
Head of the Fremantle Campus, Professor Selma Alliex, says the Graduate Certificate in Catholic Leadership builds on Notre Dame's growing number of flexible postgraduate courses which are tailored to those who wish to upskill and grow in their careers.
"The introduction of the Catholic Leadership program at Notre Dame is just one way the University can prepare students ethically and spiritually for a vocation in Catholic organisations.
"Guided by the Catholic intellectual tradition that informs all courses offered at Notre Dame, the University is justifiably proud of developing business leaders that can make a lasting difference in today's society," Professor Alliex said.