Kalgoorlie student wins state-wide Catholic Arts Scholarship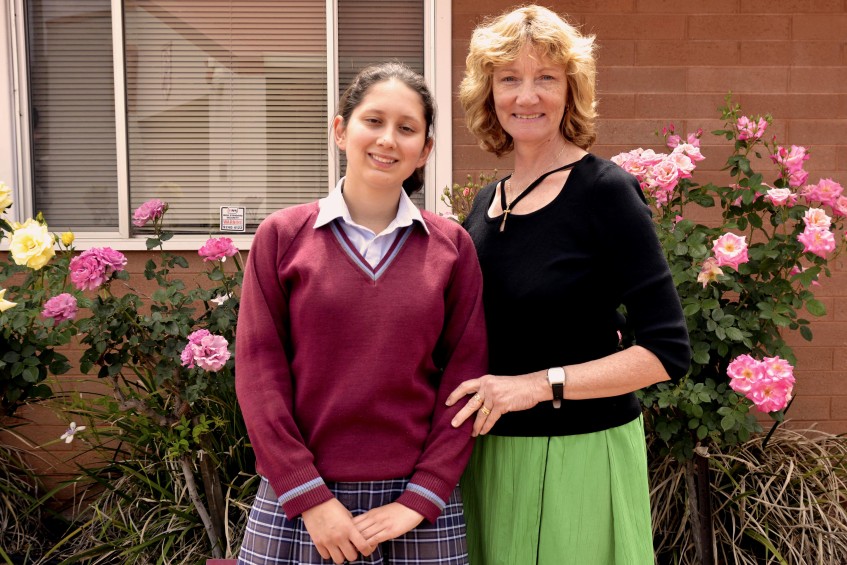 Year 11 Kalgoorlie student Jasmine Loda-Batey is the winner of the St John of God Health Care Catholic Arts Scholarship, pictured here with her drama teacher Katherine Coulter. Photo: Supplied
John Paul College student Jasmine, Loda-Batey, is a little closer to achieving her dream of performing on stage and screen, after being announced as the inaugural winner of the state-wide St John of God Health Care Catholic Arts Scholarship.
Currently in Year 11, Jasmine made the trip to Perth from Kalgoorlie to be presented with her $1500 prize at the Catholic Performing Arts Festival at the Perth Concert Hall in September.
The scholarship win means Jasmine will be able to take part in a school excursion to Sydney next April to visit and participate in workshops at Australia's pre-eminent drama school, the National Institute of Dramatic Art (NIDA) and see live performances every night.
Growing up as a young girl in Kalgoorlie with the possibility of accessing drama only through film, Jasmine said she was "over the moon" at the thought of being able to see live theatre.
She currently has a part-time job outside of school at the only video store still operating in Kalgoorlie and is one of the store's greatest customers.
"I'm a big movie fan, particularly the old movies like Westside Story for all the singing and dancing," she said.
Jasmine added that she was surprised and excited when she heard about her scholarship win, despite her initial trepidation about being called to the office, where the news was conveyed by John Paul College Principal, Bradley Hall.
She said she ran straight to her drama teacher Katherine Coulter and "barged in" to her classroom to share the good news.
"Jasmine is hard working and diligent in her drama class," Ms Coulter said.
"This scholarship has given her the opportunity to attend this once-in-a-lifetime experience. The scholarship will assist Jasmine to grow and develop as an artist."
Jasmine attended the presentation ceremony at the Perth Concert Hall with both of her grandmothers, who have equally big dreams for their talented granddaughter.
"They want me to go on and be the next Angelina Jolie or someone equally famous," Jasmine said.
Her win has further ignited her passion for drama and for the first time she will be participating in John Paul College's annual production of Beauty and the Beast in 2017.
It will be a big final year of school for Jasmine, who will have rehearsals for the school production, her trip to NIDA in Sydney and final exams to sit.
She hopes her hard work will allow her to go on and combine her love of literature and drama through further studies at university in Perth.
The scholarship, awarded by St John of God Health Care in partnership with Catholic Arts, was open to Western Australian Catholic school students from Year 6 to Year 12, in order to encourage and make more accessible the pursuit of talent in the arts.
St John of God Health Care is a big supporter of the arts in Australia, recognising that art in its many forms can improve the health and wellbeing of individuals and communities.