PERMANENT DEACONS' 10TH ANNIVERSARY: A decade on, willingness to serve remains ever present in Deacons Greg Lowe and Aaron Peters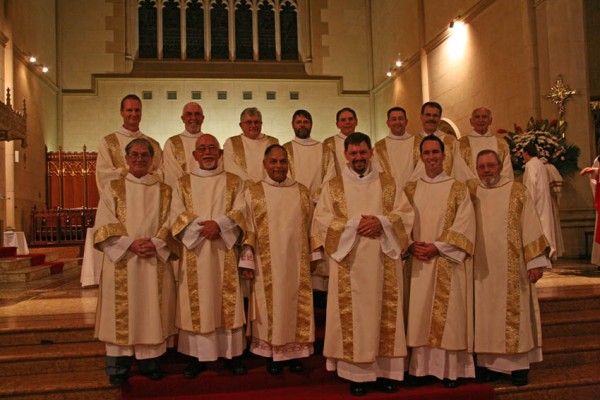 The 14 candidates for the Permanent Diaconate present themselves before then Perth Archbishop Barry Hickey, 29 June 2006. The eRecord is this month celebrating the 10th anniversary of their ordination. Photo: Jamie O'Brien.
By Marco Ceccarelli
In 2006, 14 men were ordained to the Permanent Diaconate for the Archdiocese of Perth.
A decade on, the Deacons talk to The eRecord about how their work as Deacons has inspired them.
Fulfilling the role of Permanent Deacons has, for Greg Lowe and Aaron Peters, been a significantly rewarding experience that has seen them grow in faith by serving Perth's Catholic community.
Permanent Deacons are men – married or single – who are called to be ordained ministers of the Church, undertaking a spiritual role in the Archdiocese at a specific parish or location. Deacons can preach, celebrate baptisms, marriages, conduct Communion Services and other liturgical celebrations such as funeral services but are unable to celebrate Mass, anoint the sick or give absolution.
For Deacon Lowe, who is based at Innaloo/Karrinyup Parish and is currently Manager of Aranmore Catholic College's New Arrivals Centre, the past 10 years have been as fulfilling as they have been enlightening.
With a demanding job that requires helping overseas students, many of whom are refugees, be prepared for mainstream Australian secondary schools, Deacon Lowe is ever more reliant on his faith for support and inspiration.
"My faith journey since my ordination has been one of learning to let God take over more and more in my life and to trust that providence is always at work for my spiritual good and the good of others," Deacon Lowe said.
"Learning this, I expect, is a lesson that every person of goodwill towards God and others encounters. Yet while many people learn this quickly and deeply, others, including myself, take a while longer to put it into daily practice!"
Aware of the challenges faced by refugee children, particularly the trauma of feeling displaced and the loss of a sense of identity that accompanies this, Deacon Lowe spoke of the value and importance of his work.
"Working with refugee children and their families or guardians has been very fulfilling as well as challenging. There are so many needs that require addressing and this is what makes the work so meaningful because you are dealing with people at their most vulnerable. They have lost everything except their lives.
"On arrival in Australia they experience themselves as 'strangers in a foreign land'. It is a bewildering time and all the while they are trying to come to terms with what has happened to them and who they now are. Aranmore College has such a supportive staff together with our Cultural Liaison Officer, Marta Elia, that we are able to work effectively with the various agencies to create goals for the families, enabling the children and the adults to discover a sense of purpose."
Aside from continuing his work as an ordained minister of religion, Deacon Lowe looks to the area of adult faith as a place where he may continue to contribute.
"There are many baptised and unbaptised people wanting God in their daily lives. Many are not sure if God is real or rather why God doesn't seem to be alive to them in their everyday comings and goings.
"There are many reasons for this, but since God is so real for some people, I am sure it can be a reality in a great many other people's lives as well. Adult catechesis is one way to enable this to occur," Deacon Lowe said.
Deacon Lowe has in the past given presentations on the topic of Faith to his parish who, he says, are a community of deep faith, he has run a retreat for the Personal Advocacy Services and has also worked for the Centre for Faith Enrichment.
Much like Deacon Lowe, Deacon Peters has also worked with young people, albeit in a different context.
Immediately after his ordination, Deacon Peters began full time work with the Impact Catholic Community, now known as the Catholic Guy Ministry. This ministry involved youth activities, hosting an annual youth camp and a school based retreat ministry.
At the time, he formed a small ministry training college offering Certificate III and IV level qualifications in ministry and established Impact Care, a not-for-profit agency that connected volunteers with people in need within the City of Stirling.
In 2008, Deacon Peters returned to teaching, resuming his role as Head of Learning (Religious Education) at Chisholm Catholic College and rediscovering a passion for religious education which he shared with "an inspiring team of Religious Education teachers."
Deacon Peters currently serves at Our Lady's Assumption in Dianella and has been involved in the Veritas Youth Festival, an annual weekend retreat filled with lectures, presentations, music and prayer.
During the festival in April this year, he delivered an insightful presentation entitled Fishing for Mercy in which he explained how the power of God's mercy can impact on whether we live our lives in a courageous, generous and true way.
Looking ahead, Deacon Peters hopes to continue being part of the "vibrant and warm community" that is Our Lady's Assumption in Dianella and be involved in the great diversity of experiences which make up Perth's Catholic community.
"It is precisely this diversity of experiences that represents the whole of people's lives that I am privileged to be part of. This ranges from opening the Veritas Youth Conference this year, speaking to a large group of teens and young adults, to preparing couples for marriage or the baptism of their children in the intimacy of their homes.
"I never tire of joining my local parish for Sunday Mass where so many different lives intersect with the gift of new life given to us in the sacraments," Deacon Peters said.