BJ Hickey Scholarship winners to study across the globe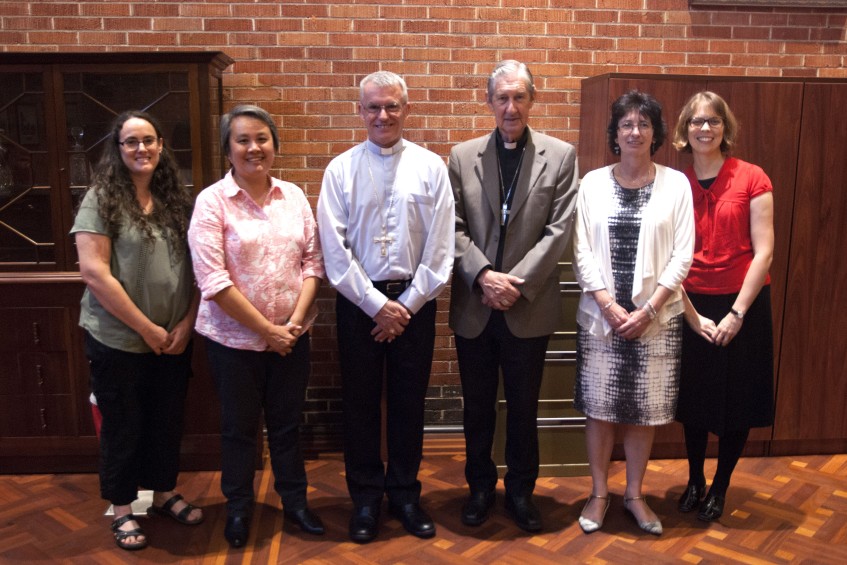 Scholarship recipients Laura Firth and Gem Oliveiro with Archbishop Timothy Costelloe, Emeritus Archbishop Barry Hickey, scholarship recipient Helen Vester and Centre for Faith Enrichment Director, Michelle Jones. Photo: Supplied
By Rachel Curry
Three Perth women undertaking studies in the United States, the Middle East and Australia have been awarded scholarships from the BJ Hickey Biblical Foundation.
Now in its third year, the Foundation awards scholarships to lay people, as well as Religious Sisters and Brothers, who wish to pursue biblical studies of any length and at any level, locally or overseas.
Applicants must outline the extent to which their studies focus on the Bible and how they will use their new knowledge to contribute to the Archdiocese of Perth.
The three scholarship winners, Gem Oliveiro, Laura Firth and Helen Vester, are not only spanning the globe in their studies, but are also covering a number of different interest areas.
Mrs Oliveiro wants to use her passion for painting, photography and poetry to help people experience the Word of God on a richer level.
The scholarship will help her travel to Jerusalem to participate in the course 'In the Footsteps of Jesus' at the Centre for Biblical Formation.
In addition to formal learning, she said she would expand her knowledge through field trips to holy sites and the experience of living in Jerusalem for four weeks.
"This will nourish my artistic exploration of Lectio Divina (Holy Reading): I intend to paint, take photographs and write about my experiences," she said.
"I am keen to offer an artist's insight into Lectio Divina, through the use of visual art, photography and poetry as contemplative tools when reading and reflecting on the Word."
Mrs Firth is also completing studies overseas – in this case, through distance education.
She is studying a Master of Arts in Theology in the United States and plans to pass on her new knowledge of the Scriptures to her students at the Acts 2 College of Mission and Evangelisation in Osborne Park, where she has taught since 2007.
"I was delighted to receive the scholarship," she said.
"As I'm studying through the Augustine Institute in Colorado, there is no government funding that I can access and so the fees are quite high. The scholarship money will help make the course more affordable for me."
Mrs Vester is the only scholarship recipient to be undertaking studies in Australia, completing a Bachelor of Theology online through Charles Sturt University in New South Wales.
Like the other recipients, she hopes her degree will assist her to carry out her vocation.
Mrs Vester has spent four years working in Catholic Prison Ministry alongside her current role as Pastoral Practitioner for St John of God Health Care. She is also training as a Clinical Pastoral Education Supervisor at Royal Perth Hospital.
"To fulfill both of my roles, a good grasp of theology and particularly of Scripture is not only helpful but, I believe, essential," she said.
"For those hospital patients and family members I may meet in the future, and future students of Clinical Pastoral Education, I hope that my increased knowledge about the stories that undergird our Christian faith will deepen the God-centred encounters that we are able to have."
For more information about the scholarships, visit the Archdiocese of Perth Centre for Faith Enrichment website at www.cfe.org.au.