Archbishop blesses new Trade Centre at La Salle College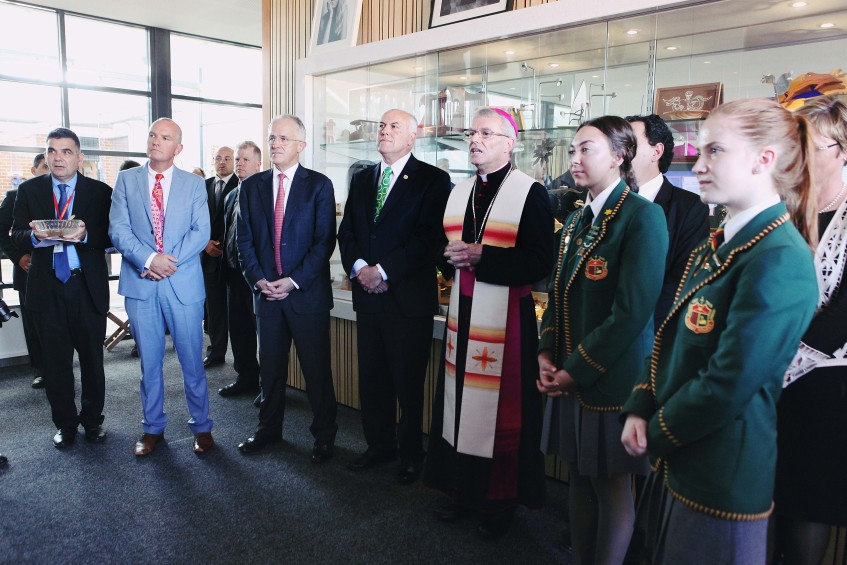 Archbishop Timothy Costelloe, (fifth from left), stands with Catholic Education WA Executive Director Dr Tim McDonald, Prime Minister Malcom Turnbull, La Salle College Principal Wayne Bull, in addition to students from La Salle Colllege, for the opening of the new Brother Fitzhardinge Trade Skills Centre. Photo: Jesse Roberts.
La Salle College stands on the fundamental conviction that at the heart of every human life we find the mystery of God, Archbishop Timothy Costelloe said last week at the recent blessing and opening of the new Brother Fitzhardinge Trade Skills Centre for La Salle College, Middle Swan.
"It is this conviction which explains the existence of Catholic schools in the wider educational landscape in Australia," the Archbishop said.
Archbishop Costelloe blessed crucifixes to hang in the Trade Skills Centre, which offers Vocational Education and Training courses in areas including Engineering and Furniture Making.
The Archbishop was joined for the occasion by Prime Minister Malcolm Turnbull who officially opened the new facilities, together with Catholic Education Western Australia Executive Director, Dr Tim McDonald; Assistant Minister of Health and Aged Care, Ken Wyatt; Senator Linda Reynolds; and Executive Director of the National Catholic Education Commission, Ross Fox.
Also in attendance for the occasion was Brother Berkeley Fitzhardinge, a former principal of the College after whom the Trade Skills Centre was named, in recognition of his early introduction of technology and enterprise studies in the College's curriculum.
College Principal Wayne Bull led the official party on a tour of the new facilities while students talked with Prime Minister Turnbull as they demonstrated some of the work stations, before presenting him with a painting completed by a number of the College's Aboriginal students.
The new Trade Skills Centre is equipped to enable studies in a range of VET areas, including metal work and material designs, as well as furniture construction, and has already been used by students from Trinity College, Chisholm Catholic College and St Joseph's School in Northam, as well as those at La Salle College.
Continuing his speech for the occasion, Archbishop Costelloe went on to say that he is very grateful to live in a country where Catholic Education is free to work in partnership with society and governments to provide an education that respects the contribution made, based as it is on the values which come to us from our Christian faith.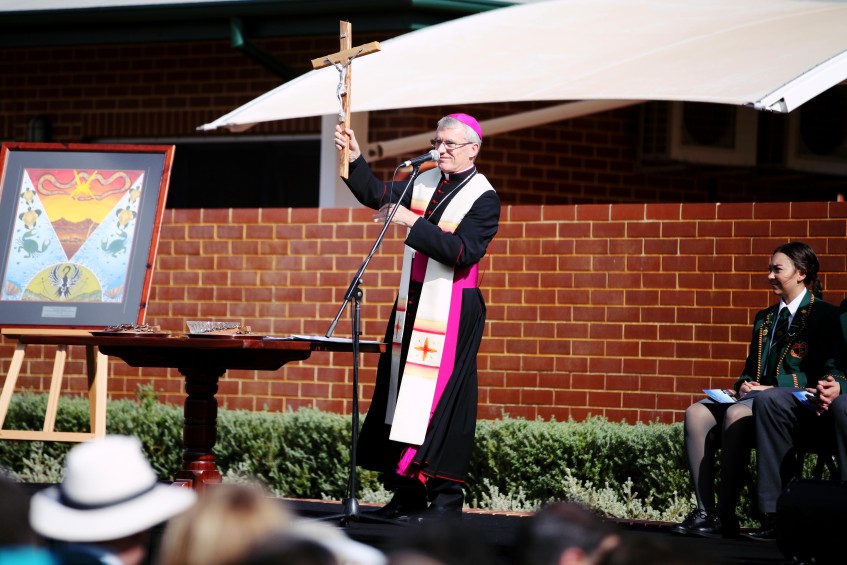 Archbishop Costelloe holds up the crosses before blessing them for the new Brother Fitzhardinge Trade Skills Centre at La Salle College, which was officially blessed and opened last weed Wednesday 13 April. Photo: Jesse Roberts.
"Schools exist to prepare and equip young people for their future, and the Church is convinced that the most important tool, and one which influences every other dimension of a person's life, is a recognition of the love and presence of God at work in every human heart," the Archbishop said.
"Schools don't just prepare future plumbers, or IT specialists, or nurses, or even politicians or clergy for their jobs – schools prepare people for life.
"The patron of your school, St John Baptist de la Salle, would certainly have understood and believed this," he said.
The Archbishop concluded his speech by saying that it is his hope and prayer that the whole College community, students, staff and families, will use the facilities to celebrate enthusiastically and joyfully the wonderful gift of life which is God's first and most foundational gift to us all.