Honourable role of the parish secretary in focus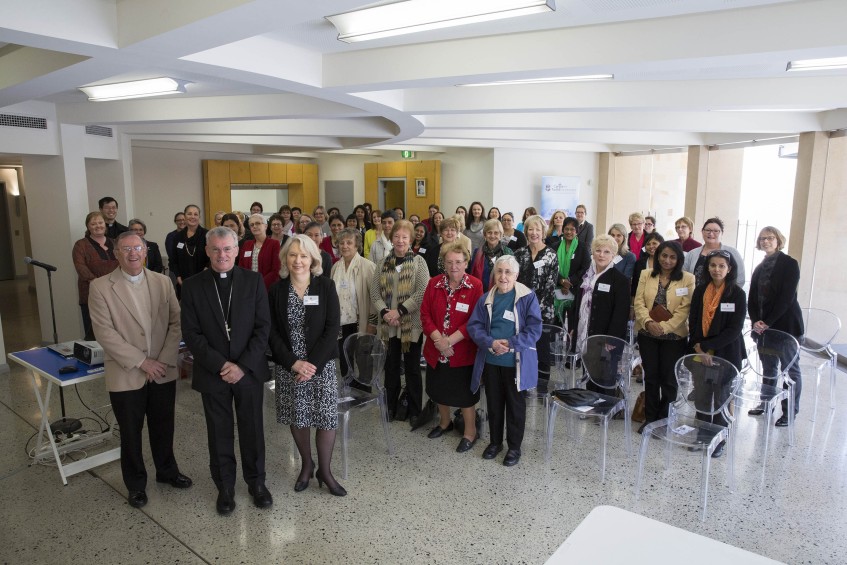 Vicar General Fr Peter Whitely, with Archbishop Timothy Costelloe, and the Archbishop's Executive Assistant, Jennifer Lazberger, with participants at the Parish Secretary's Day on 15 September. PHOTO: Ron Tan Photography
By Marco Ceccarelli
As the Archdiocese of Perth is encouraged by Archbishop Timothy Costelloe to "move forward" in different priority areas, a number of fundamental roles and jobs played by those serving the Church have also been acknowledged.
One such job has been that of the Parish Secretary. The role, which is normally associated with directing, guiding and welcoming people to the parish, was celebrated on 15 September 2015 at St Mary's Cathedral, Perth.
Hosted and introduced by the Archbishop's Executive Assistant, Jennifer Lazberger, the event featured a presentation and outline of the structure of the Archdiocese by Archbishop Costelloe, a Mass by Auxiliary Bishop Donald Sproxton and an insightful presentation, entitled The Accidental Counsellor, by the Executive Director of Professional Standards & Conduct at The University of Notre Dame, Mrs Sarah Chaney.
The special event aimed at better informing and involving Perth parish secretaries in Archbishop Costelloe's new vision for the Archdiocese.
In his address to the parish secretaries, the Archbishop made numerous references to his recently announced vision for the Archdiocese, entitled The Way Forward.
The forward-looking plan includes improvements to Professional Standards, Effective Communication, Outreach to those in need, Strengthening and Revitalising Parishes, Support for Clergy, Adult Faith Formation and Archdiocesan Growth and Development.
In this context, the Archbishop also acknowledged the important and pivotal role played by the parish secretaries in the Catholic community.
The parish secretaries who attended the event were overwhelmingly appreciative of the Archbishop's efforts to improve all aspects of the Archdiocese. Many had the chance to meet and talk to other parish secretaries in the Archdiocese and exchange ideas in light of the Archbishop's new plans.
"The response has been extremely positive by those who attended," Ms Lazberger said.
"The parish secretary is often the first contact someone may have with the Catholic Church and it is a role of welcoming. The Archbishop fittingly quoted Pope Francis to convey his message: 'those who approach the Church should find the doors open and not find people who want to control the faith.'
"Many of those whom I spoke to would like it to become an annual event," she added.