Meet Alison… there's no stopping her now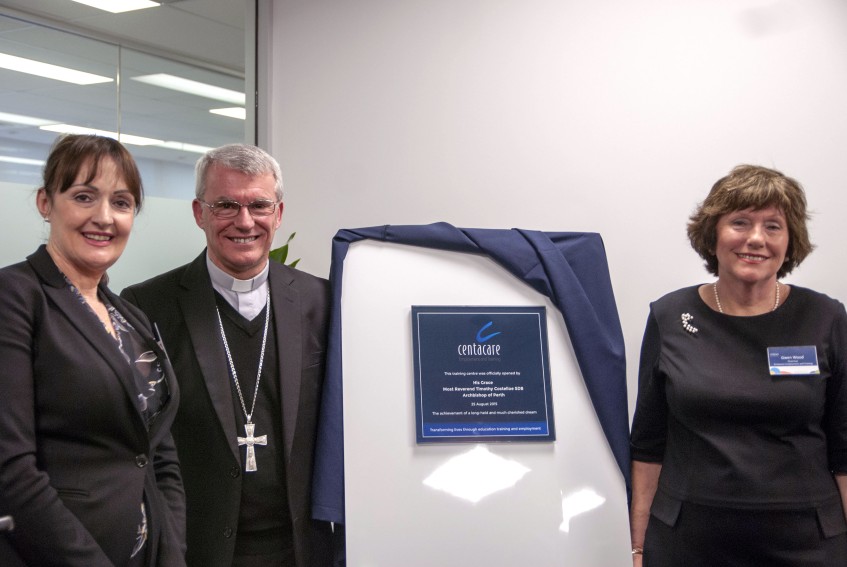 Centacare Employment and Training is a not-for-profit, registered training organisation, delivering flexible education courses and fully accredited vocational education and training specifically for disadvantaged and/or marginalised members of the community. Photo: Supplied
Alison joined Centacare Employment and Training's Kadadjiny Bidi - meaning 'Learning Path - program in February 2015.
Also known as Gaining Access to Training and Employment, or GATE, the program provides support for Aboriginal and Torres Strait Islanders to build new skills towards further training and employment.
It includes practical help to build confidence, develop computer skills, communication skills, reading and writing, career planning and development, interview skills, maths and numeracy, help with projects and support to find work experience.
Alison was referred to Centacare Employment and Training by her Jobactive provider in Armadale, who suggested that the course might be suitable as a launching pad to venture into something more vocational down the track.
Prior to joining the GATE program, Alison had been caring for her children. As the children were getting older, Alison was keen to brush up on a few skills and find new direction.
"The GATE program has been really good," said Alison.
"I have been able to meet new people and learn new skills.
"We organised our stand for the NAIDOC Day in July and we made handicrafts and sold our artwork and cards at the event as a way to attract people to the stand."
Centacare's Aboriginal Community Development Officer, Simone Collard, said Alison has been a great student.
"She's been very keen to learn and complete all her units," Ms Collard said.
"She obtained the full GATE Certificate and, shortly after she finished, she enrolled at college in Cannington and was offered a place to study a Diploma of Community Service."
Centacare's Program Manager, Carmel Jennings, said GATE has produced some terrific outcomes.
"At course completion, 50 per cent of participants had commenced in employment or work experience and those not working were planning or had embarked on further education or training," Ms Jennings said.
Asked if she'd recommend the course to friends and family members, Alison was very positive.
"I'm really glad I did the course. It has helped a lot with getting my confidence back and I'm hoping to get a job in community services once I'm finished."

Centacare Employment and Training is a not-for-profit, registered training organisation, delivering flexible education courses and fully accredited vocational education and training specifically for disadvantaged and/or marginalised members of the community.
"In 2015, we supported more than 2,200 people, providing education, training and employment support to assist students to build an economic and social livelihood for themselves and their families," said Lee-Anne Phillips, Centacare's Executive Director.
Ms Phillips explained that Centacare's multicultural student population comes from a wide range of backgrounds, including Indigenous and non-Indigenous Australians as well as migrants from all over the world.
"We work hard to support our students with a range of wrap-around services designed to help students manage barriers that exist both inside and outside of the classroom and that might otherwise impede their ability to succeed with their studies," Ms Phillips said.
"Small classes, individual support, additional teaching staff to help with language, literacy and numeracy and passionate, bilingual staff, often with diverse multicultural backgrounds themselves, are pretty much a standard at Centacare.
"On top of this, our student counsellor provides confidential advice, guidance counselling and referral to relevant agencies whilst our Volunteer Coordinator is able to help secure work experience, volunteer opportunities and employment support for students and non-students ready to take the next step," Ms Phillips said.
Centacare Employment and Training has been providing quality, individualised education, training and employment support to unemployed job seekers in a manner consistent with its Christian ethos since 1976. Skills for Education and Employment classes are practical, fun, interactive and available from six locations across the Perth metropolitan region, including Gosnells, Cannington, Midland, West Perth, Mirrabooka and Joondalup, and are available to any member of the community without prejudice or discrimination.
LifeLink agencies collectively touch the lives of more than 31,000 people in need each year through the provision of accommodation, food, clothing, financial assistance with electricity and gas accounts, and the protection of women and children escaping domestic violence and abuse.
In this year's Christmas LifeLink Appeal, the Archbishop is setting a target of $700,000 so as to help fund agencies in being able to meet the needs of those who knock on the doors of Archdiocesan agencies.
The 2015 LifeLink Christmas Appeal was officially launched in parishes on 14 and 15 November.
To donate to LifeLink, go to www.lifelink.com.au.