Archbishop meets with key leaders in Canberra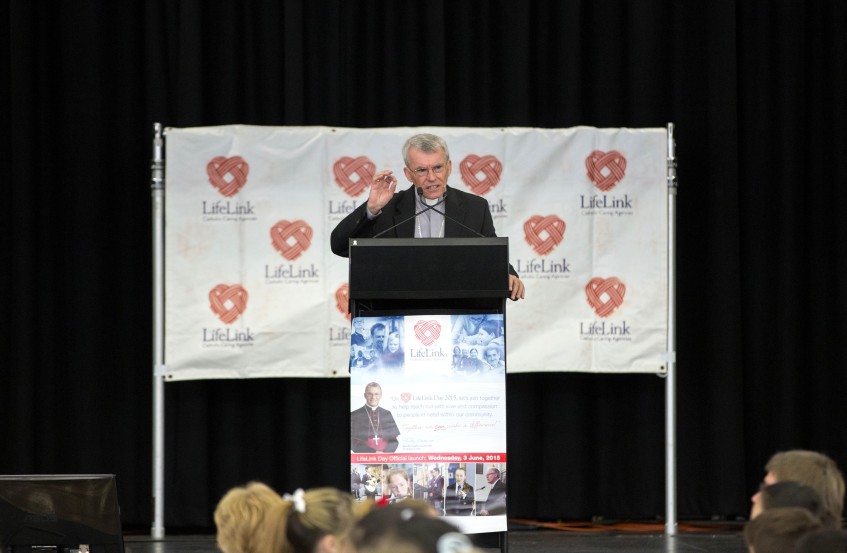 Archbishop Costelloe at the 2015 LifeLink Day Launch at Aranmore College on 3 June 2015. The Archbishop this month met with key political leaders as part of his role as Chair of the Bishops Commission for Catholic Education. Photo: Ron Tan
Bishops Commission for Catholic Education chair Archbishop Timothy Costelloe SDB, National Catholic Education Commission (NCEC) chair Greg Crafter AO and senior National Catholic Education Commission staff have this month met with key political leaders, offering a vision for school education – and Catholic education specifically – as the parliamentary year wraps up.
NCEC Executive Director Ross Fox said the delegation received a warm welcome and a listening ear from those they met, including Education Minister Senator Simon Birmingham, Opposition Leader Bill Shorten, Deputy Liberal Leader and Foreign Minister Julie Bishop, and Shadow Education Minister Kate Ellis.
"Those in Federal Parliament with whom we met shared their appreciation for the role of Catholic schools in educating one in five Australian students and were keen to learn more about how Catholic education continues to grow to meet the needs of young people and families," Mr Fox said.
"The families of Indigenous students and of students with disability are choosing Catholic schools at increasing rates. Catholic schools are committed to supporting these and other students with a broad range of learning needs.
"Some of the issues facing Catholic education include the potential negative consequences for parents with children in Catholic schools if a GST is applied to schools, CPI indexation for school funding from 2017 not keeping pace with school costs and capital funding needed to keep up with projected enrolment increases.
"Catholic education will continue to work closely with political leaders to ensure that Australia's school education system meets the needs of all students and families in whatever school they may choose," Mr Fox said.
Catholic education is a complete education, says Archbishop
Catholic schools must be places where the Catholic world view is not confined to the Religious Education classes but permeates the entire school, Archbishop Timothy Costelloe told an audience at John XXIII College in Mt Claremont, in August.
The Archbishop was a guest speaker at the school's "Inigo Spirituality" presentations which provide parents and the general public with a series of talks designed to educate and inspire.
In his address, entitled Catholic Schools Today – What is the Point?, the Archbishop shared his own educational journey before emphasising the importance of understanding exactly what Catholic education is and why its implementation is a key to providing students with a complete education.
"There would be no Archbishop more passionate than me when it comes to Catholic education," he announced, and then, putting his own teaching skills on display, led the audience through a systematic journey of what defines such an education.
"A Catholic school cannot be a good Catholic school if it is not a good school," he began.
"A focus on Religious Education shouldn't be an excuse for a school being second rate and vice versa."
During his presentation, the Archbishop went on to speak of the growing attitude of self-focus and independence prevailing within secular society, which he described as the antithesis of the Catholic world view.
"The spirit of the Gospel is that we belong to each other and are responsible to each other, where the welfare of one is the welfare of all," he shared.
The Archbishop was adamant that an education without a spiritual element was not a complete education and said that parents who chose Catholic schools for their children were seeking to provide the best education they could.
"And that must include the spiritual and religious dimension as an integral, integrated part of the educational experience and not a separate little thing that's boxed in the corner called 'Religious Education'," he said.
"It is a part of the whole understanding of what it means to be a human being – of living life to the full."
Watch the video by Clicking Here.