Archbishop leads ecumenical reflection at hospital opening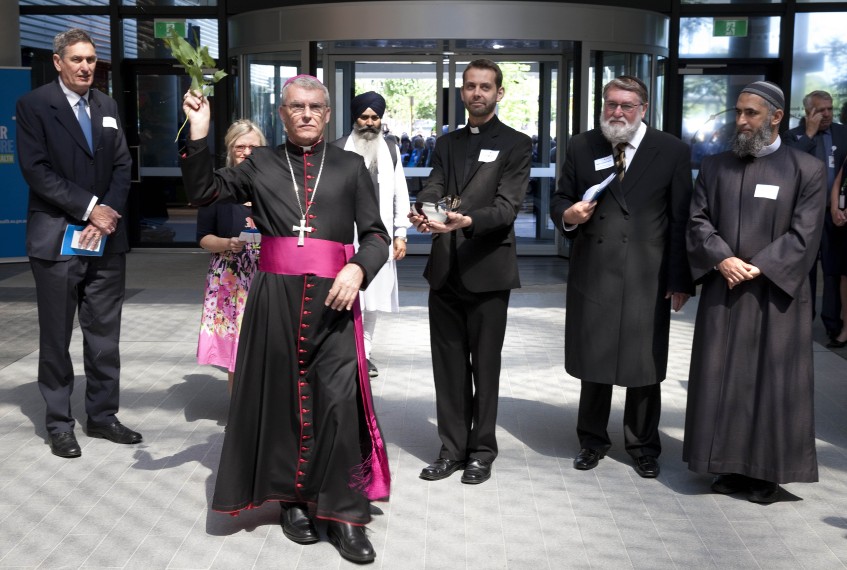 Archbishop Timothy Costelloe blesses the new St John of God Midland Public Hospital as part of the official opening ceremony held on Friday, 20 November 2015. Photos: Rovis Media/St John of God Health Care
An official opening ceremony was last week held for the new St John of God Hospital Midland – just four days before it was set to open its doors to the public.
Perth Archbishop Timothy Costelloe led an ecumenical reflection together with other West Australian religious leaders, including Chief Rabbi of WA, Rabbi Dovid Freilich OAM; Baptist Church of WA's Reverend Philip Bryant; Sheikh Hisham, Imam of Islamic Council of WA; Sikh Temple's Head Priest Jasvinder Singh; Anglican Parish of Midland Church Warden Lynne Oliver and Buddha Light International's Venerable Miaoxi Shih.
Prior to blessing the new hospital, the Archbishop said that, as a facility under the care of a Catholic organisation, the hospital will be grounded in the mercy, compassion, and respect for the worth and dignity of every human person, which are the values we have learnt from the teaching and actions of Jesus.
They are of course, he continued, values which are at the heart of every religion, every faith, and are found in the heart of every person.
The Archbishop also said it is his hope, his expectation and his prayer that everyone who engages with this hospital, whether as staff, as visitors or as patients, will experience a sense of being deeply honoured, valued and respected.
St John of God Health Care Group Chief Executive Officer, Dr Michael Stanford, said the event was a special celebration for St John of God Health Care (SJGHC) with the St John of God Midland Public Hospital (SJGMPH) set to open on time and on budget.
"The new hospital will build on our long history of working closely with State and Federal Governments to provide health services in Western Australia, Victoria and New South Wales," he said.
"As an organisation, we are committed to growing our involvement in publicly-funded health care and we look forward to SJGMPH being the centrepiece of that growth."
The opening of the hospital, and its affiliated private hospital, will see SJGHC operating 23 facilities across Australia and New Zealand.
SJGMPH Chief Executive Officer, Dr Glen Power, said the organisation was looking forward to opening the hospital's doors to the public and providing new and expanded health care services to the region.
"I would like to take this opportunity to thank the many people who spent the past three years undertaking the design and construction of this magnificent facility, and those who have worked tirelessly over the past six months undertaking an intensive commissioning program to ensure the hospital is ready for opening," he said.
The $360 million hospital will be delivering higher acuity and complex clinical services in many areas than currently available at Swan District Hospital, such as intensive care, coronary care and cancer care. It is also providing expanded services in emergency, paediatrics, aged care and rehabilitation, surgery, medicine and mental health.
In recognition of the partnership arrangement between SJGHC and the State Government to build and operate the hospital, both partners were involved in the event and proceedings reflected the hospital's focus on the local community.
Speakers at the event included the Premier of Western Australia, the Hon Colin Barnett MLA; Federal Assistant Minister for Health, the Hon Ken Wyatt; WA Minister for Health, the Hon Dr Kim Hames MLA; SJGHC Chairman of Trustees, Eva Skira; and SJGHC Group CEO, Dr Michael Stanford.
A Welcome to Country was provided by Karen Jacobs and music was provided by Governor Stirling Senior High School and Holy Cross College.
The new hospital is part of the State Government's Bigger Picture Health $7 billion hospital building and refurbishment program. It is jointly funded by State and Commonwealth Governments and operated by SJGHC under a public private partnership.
The facility includes the co-located, $70 million, 60-bed St John of God Midland Private Hospital. Entirely funded by SJGHC, the private hospital also opens on 24 November.
Fast facts
• The public hospital includes:
o An emergency department for adults and children
o High acuity and complex clinical services, such as intensive, emergency, coronary and cancer care
o 307 beds and 80 per cent single rooms
o About 50 per cent more beds than Swan District Hospital
o Adult rehabilitation, aged care, cancer care, cardiology, critical care, emergency services, general medical, general surgery, gynaecology, hydrotherapy, maternity, medical and surgical specialties, mental health, neonatology, orthopaedics, outpatients, paediatrics, pathology, pharmacy, radiology and stroke care
• Nearly 200,000 patients are expected to be treated at the public hospital in the first full year of operation
• The hospital features nine courtyards, including a children's playground, to provide patients and visitors with access to natural light and fresh air
• The co-located private hospital has 60 beds and 85 per cent single rooms
• About 1,500 people will work at the hospitals once fully operational
• Construction started on the $360 million public hospital in August 2012.
For more information, visit www.midlandhospitals.org.au
About SJGHC
SJGHC is one of Australia's largest non-government hospital operators and is Australia's largest Catholic hospital operator. It has been operating for more than 120 years and employs more than 13,500 caregivers across Australia, New Zealand and the wider Asia-Pacific region. When the Midland hospitals open, SJGHC will operate 23 facilities comprising about 3,000 beds. It also provides pathology, home nursing and disability services across Australia and New Zealand.