24-Hours for the Lord
ARCHBISHOP ENCOURAGES MEDITATION ON THE MYSTERY OF GOD'S MERCY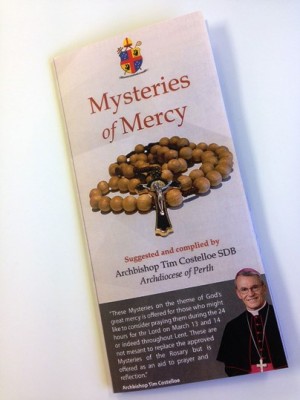 In a recent letter to all clergy of the Archdiocese of Perth, Archbishop Tim Costelloe SDB raised awareness that Pope Francis has "called on the Church to dedicate March 13 and 15 to the theme of mercy and to conduct '24-Hours for the Lord - God rich in mercy".
Archbishop Costelloe is prompting parishes to do what they can with the limited time available during the season of Lent to "enter more deeply into the great theme of God's abundant and never-failing mercy".
Among suggestions offered, the Archbishop pointed to the possibility of beginning the 24-hour period with a specially designed liturgical celebration: Stations of the Cross, a Special Penitential Service or, Exposition of the Blessed Sacrament.
In response to this, the Archdiocese's Centre for Liturgy has put together some accessible resources that can easily be downloaded and used ( see links both above and below).
Aware that there will be some individuals who cannot access a church building, and others who may prefer to pray at home, or indeed families and groups who may wish to pray in church or elsewhere, Archbishop Costelloe has compiled a special set of Mysteries of the Rosary entitled the Mysteries of Mercy(1-sheet edition/2-sheet edition) which he invites people to consider praying during the 24-Hours for the Lord, throughout Lent and beyond.
The Archbishop os clear to point out that this set of mysteries in no way replaces the approved mysteries of the day but rather "offers an aid to prayer and reflection to whose who might like to make use of them".
The Archdiocese of Perth is home to many Chapels of Adoration where it is possible to spend time in the presence of Jesus in the Blessed Sacrament. WHere parishes do not have a chapel of perpetual adoration, groups of twenty-four people are gather to each be allocated an hour in prayer to cover their parish's 24-hour period. A selection of the chapels offering Adoration of the Blessed Sacrament in the Archdiocese of Perth is as follows:
Perpetual Adoration (24 hours / 7 days a week) Perpetual Adoration
Balcatta - Bassendean - City Beach - Glendalough - Mirrabooka
Selected Times of Adoration
(please contact the parish below beforehand to ensure the hours mentioned are still correct)
Attadale - Tuesdays and Wednesdays 9.30am - 10am
Como - Thursdays 9.30am - 3.30pm