Three Generations of Weddings
EMERITUS ARCHBISHOP HICKEY CELEBRATES THREE GENERATIONS OF WEDDINGS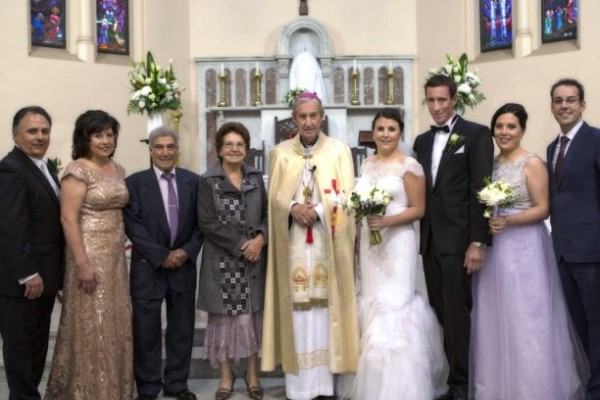 Rosario Anile, Concettina Anile, Vincenzo Giglia, Catena Giglia, Emeritus Archbishop Barry Hickey, Stephanie Anile-Booth, Brodie Booth, Danielle Lampropoulos and Paul Lampropoulos. PHOTO: Supplied
When Father Barry Hickey celebrated the marriage of Vincenzo and Catena Giglia on 8 June 1963, he had no idea he would also preside over the weddings of the next two generations of their family.
The longevity and spiritual influence of the now Emeritus Archbishop was highlighted on 16 May this year, when he celebrated the marriage of Brodie Booth and Stephanie Anile at St Columba's Church in South Perth.
Stephanie is the grandchild of Vincenzo and Cateno and was excited to be the fourth link in the sacramental chain joining her to her grandparents, parents and sister.
"It is such a beautiful and unique connection to have the Archbishop Emeritus as part of all of our marriages," she shared.
"He has been a wonderful blessing to our family."
Ms Anile-Booth pointed out that the Archbishop Emeritus' priestly progression was reflected with each marriage he witnessed.
"When my grandparents were married in 1963, he was Father Barry Hickey; when my parents, Rosario and Concettina, wed in 1983 at St Joseph's in Subiaco, he was Monsignor Hickey; when my sister Danielle and Paul Lampropoulos married in 2011, he was Archbishop Hickey and, for Brodie and I, he was Archbishop Emeritus Hickey."
The Archbishop Emeritus said that, as a young priest at St Brigid's Church in Northbridge and later at Sacred Heart Church, Highgate, he had been given the privilege of performing many weddings among new migrants from Italy.
He described these families as poor, but faith-filled and hard-working, who formed a close-knit and supportive community around the church.
He first met the Giglia family after they arrived from Sicily and established themselves, like many other families, in the Kalamunda and Pickering Brook region, growing fruit trees as they had done in their homeland.
The Archbishop Emeritus said he has had continuous contact with the community through celebrations of San Leone in Kalamunda, and it was there he made contact with the Anile family.
It was only recently that he realised he had married members of three generations.
"Pastoral associations like this are very heart-warming to me," he said, "as they are to all priests whose lives are led among God's people."
The good news story of the Anile family and the pastoral association of Archbishop Emeritus Hickey comes in light of Pope Francis' recent comments at his General Audience on 6 May, when he urged the faithful to focus more on the spiritual dimension of marriage, and less on the material aspects, describing it (marriage) as far more than flowers, dresses and photos.
"Christian marriage is a sacrament that takes place in the church and is also something the Church does, ushering in a new domestic community," he said.
"(She) is enriched each time by the beauty of this spousal covenant, and deteriorates whenever it is disfigured," the Pope said.