The time is right to safeguard children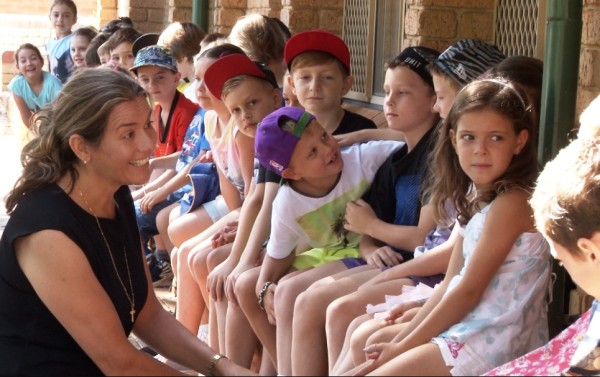 Archdiocese of Perth's Safeguarding Project Coordinator, Andrea Musulin, speaks with primary school children
SAFEGUARDING CHILDREN – THE TIME IS RIGHT
As the national press focusses on the Royal Commission's latest hearing in Ballarat, a contrasting glimmer of hope is rising in the Archdiocese of Perth.
Andrea Musulin, the Archdiocese's Safeguarding Project Coordinator, has this past week launched a pilot recruitment drive in two country and two metropolitan parishes to secure appropriate volunteers to act as Parish Safeguarding Officers (PSOs).
The launch of the pilot projects were placed just after the reading of the Gospel in the Mass demonstrating, in Musulin's opinion, the central place of safeguarding within the Catholic community.
"The Safeguarding Project is not separate from who we are as Catholic Christians" she stressed. "It is not an optional extra to be tagged on to the end of the Mass. Safeguarding is at the heart of who we are as followers of Jesus Christ."

Nominations
Musulin related how well the launch had been received saying "it was much better than I had expected".
"At St Anthony's in Greenmount there were six nominations, each one keen to take up the two positions on offer. As St Anthony's is a big parish I have decided to extend the number of PSOs to three rather than merely have two."
Musulin spoke of being very encouraged not only by the high number of nominations for a limited number of positions but by the high caliber of the applicants which has made the job of choosing safeguarding officers for this parish very difficult. "This is a great problem to have," she said.
She noted the variety of nominees already coming forward with many applicants being professionals with long-term engagement with the Church and extensive experience in the field of child protection. These include paramedics, ex-police officers, ex-school principals, and child protection workers.
"Even across these few pilot parishes we have good solid nominations," Musulin pointed out. "I am very pleased with the quality of the applicants coming forward.
"Some people may assume that being a PSO is a big task to take on and that it may consume a lot of their time. They will not be inundated. And yet those who step forward need to be mindful that they are likely to hear complaints in the first instance.
"If nominees are accepted, attend the training and then do not feel this role is for them then this is perfectly acceptable."

The time is right
"In Mater Christi parish, Yangebup we had not envisaged needing to distribute more than 25 application forms. We rapidly ran out of forms and had to copy at least another 50.
"I have had a lot of positive response from young people and from congregations in general. People were queuing up after Mass to talk to me.
Musulin was additionally encouraged by comments from the young daughter of one lady who spoke of being "really happy" to see such an initiative being put into place.
"I came away with the strong sense that people are ready. The time is right. People know the Catholic community needs to do this."

Clarifying facts
Musulin believes the Media often do not give a clear picture of child abuse and do not answer the question 'why the Catholic Church?' "I talked to congregations about access to children from my background in crime and the gravitation of offenders to the Church.
"They found it refreshing to hear that the vast majority of clergy are not sexually inclined to children whereas the Media's message often comes across saying the opposite. I talked about perpetrators only making up 4 percent of different groups and how this equation transfers across society. This was a revelation to many as the Media never presents this information."
Certain parishes have expressed to Musulin that few children attend their church. She consistently highlights that PSOs are not only for children but for vulnerable adults who are very much present in Catholic parishes.

Breaking new ground
Parishioners at Mater Christi parish were totally engaged and engrossed with the launch. "People's response was not one of discomfort, denial or evasion," Musulin pointed out. "People wanted to know more.
"The support from the four parish priests has been amazing. They can't do enough. They are happy to be a part of the solution and are proud to be. They understand the importance of what we are doing and are delighted to pilot what will serve as an example to the rest of the Archdiocese, and might reach further afield across Australia.
"I mentioned to the parish councils that they too need to be mindful that what we are doing in Perth is a first here in Australia, that the people put into these important roles as safeguarding officers are pioneers and that we may be looked to in the future as the place of best practice. This is an additional reason why we need the best people in these positions."
Speaking of the journey forward, Musulin sees the greatest challenge will be to get young people - anything from pre-primary age to eighteen - to come forward and make an initial disclosure. "This is something we are constantly working through. It will be important to ensure that the PSOs' contact information is in the parish newsletter every week as well as them being appropriately visible at Mass in some way."

Launch and training
The formal launch across parishes in the Archdiocese of Perth takes place on Sunday, 5 July. Prior to this, parishes will receive a formal letter about the Safeguarding Project from Archbishop Costelloe, accompanied by a DVD containing a short launch video together with launch brochures.
"Parishioners will receive details about where nomination forms can be obtained," Musulin said. "If a parish gets no nominations then members of the parish council will have to go and canvas prospective candidates or to fulfil this role themselves until someone is appointed."
Once officers have been nominated, Musulin stated that they will be obliged to attend a minimum requirement of two initial training days and then one day every year with additional optional training being on offer throughout the year for those who can attend.
Training will look at the laws around child protection, the policy and procedures document plus the duty statement of the PSOs and what is expected of them. Prior experience with child protection is not necessary for people to apply for this volunteer role but prior experience is seen to be of advantage.
"We are starting from the ground up," Musulin emphasised. "I know from 30 years of policing that what we are doing in Perth is not only crucial but pretty ground-breaking. This is merely the beginning of what is an important ongoing process."

Education and knowledge
Musulin spoke resolutely about the need to empower children with knowledge. "Whilst much is happening globally, what gives strength to the project here in Perth is our capacity to educate children.
"Protecting children is only one aspect. Empowering children with knowledge is imperative. We cannot keep this from them. If we want to protect children we need to educate them. I am not seeing this taking place anywhere else in the world."
Instilling knowledge to parents is also part of Musulin's long-term plan. "Through Protective Behaviours WA we want to roll out future workshops for parents. Relevant information for parents and carers will also be produced and become available for download from the archdiocesan website.
"We need to ensure that people know what child sexual abuse is, what it looks like, how to prevent it and, should it happen, how to respond to it, as well as where to go to for referral."
Next month sees Edith Cowan University hosting the 2015 conference Children: A Resource Most Precious which seeks to address the prevention of child abuse and neglect in partnership with the WA Police, the Department of Child Protection, Family Support, Constable Care and Parkerville Children's Home. Musulin will join a host of distinguished presenters and speak about Safeguarding Children in the Catholic Church.