Putting compassion into action
PROJECT COMPASSION 2015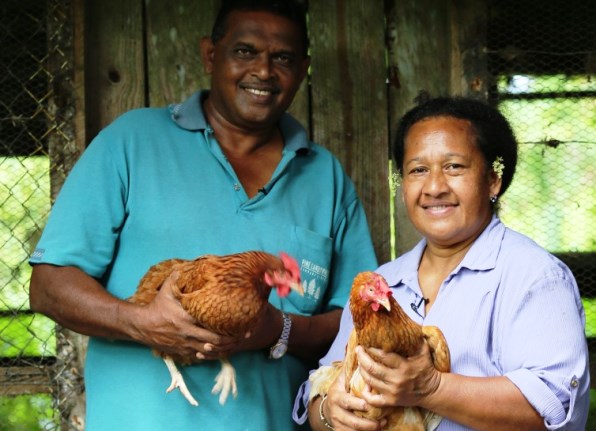 Supported by Caritas Australia, Eric and Ma are pictured outside their chicken coop. PHOTO: Andrew Garrick & Drew Morrison
This Sunday, 15 February, Archbishop Timothy Costelloe SDB will launch Project Compassion in the Perth Archdiocese at the 11am Mass at St Mary's Cathedral, Victoria Square.
The Project Compassion appeal – one of Australia's largest humanitarian fundraising and awareness-raising campaigns, runs during the six weeks of Lent, bringing hundreds of thousands of Australians together in solidarity with the world's poor.
The theme for this year's Project Compassion is Food for Life which aligns closely with the Caritas Internationalis global initiative, One human family, food for all, aimed at ending hunger by 2025.
In 2015, Project Compassion will take a closer look at the ways in which Caritas Australia is working with partners around the world to empower vulnerable people to establish sustainable food sources and develop income streams for life.
As examples of what can happen when faith, commitment and hard work combine, Caritas Australia is telling the stories of people whose lives have been affected by the work of Project Compassion.
Here is Eric and Ma's story – Growing Food for Life
When Eric and Margaret (Ma) enrolled in a Married Couples Course at the Tutu Rural Training Centre 25 years ago, they couldn't anticipate how it would change the direction of their lives, and set them on a path of growth for life.
Eric and Ma radiate joy. Their smiles are infectious, their unbreakable bond is plain to see. There's no mistaking it: this happy, healthy couple are in love – after over 30 years of marriage.
Their homeland of Fiji is spectacularly beautiful, but it is not trouble-free. Comprised of more than 300 islands, Fiji has many isolated rural communities and, throughout the country, youth unemployment is high, nutritious foods are in short supply, and life expectancy is much lower than in Australia. Yet Eric (53) and Ma (51) are thriving.
Eric and Ma agree that the Married Couples Course they took at the Tutu Rural Training Centre (Tutu) changed the direction of their lives. The centre, which runs courses for people living on the remote northern islands of Fiji, empowered the couple to participate fully in making decisions about their future, so they could find personal fulfilment and grow a sustainable source of food for life.
"The program at Tutu has truly enriched us and opened a new pathway for us where we have been able to prosper safely in life," says Eric.
Supported by Caritas Australia, Tutu has given Eric and Ma agricultural and personal training that's enabled them to achieve things they could only have dreamt about. Together, over 25 years, they've built a house, established a sustainable, productive farm, and proudly raised and tertiary-educated six healthy children.
"Before that course, we used to have plans, but different plans, different ideas and we had different ways," says Eric. "But once we'd followed this six-month course in Tutu, we came to realise that we two are one. So we are always saying one plus one is one!'
Before Tutu, Eric worked hard on the family farm, but his labour was unprofitable. "We didn't know how to manage a farm and to work a farm, manage our time and what to plant and how to plant," says Eric.
At Tutu, Eric learned about planting, soil care, selling his produce and ways to crop sustainably in order to grow and maintain an on-going, diverse food and income source.
Today, the couple grow and sell a wide range of foods, including cabbage, lettuce, okra, tomatoes and cucumbers. Almost all the food they eat comes from their own fields, and any profits they make go to maintaining the farm and their livestock, including a handful of goats, ducks and chickens.
Their farm's produce helps the family to maintain a healthy diet and avoid the serious health problems (like stroke, heart attack and diabetes) that many Fijians experience, in part due to a lack of fresh, diverse foods in their diets.
"Before we went to Tutu, we just cooked whatever popped up. I didn't even bother about if it was nutritious or not," says Ma. "After the course, I'm more aware of the real needs for the family… eating fresh vegetables and fresh fruits."
Education and training gave Eric and Ma the tools they needed to leave behind a life of uncertainty. Today, they are regular visitors to Tutu, where they teach other couples the valuable lessons they learnt, so they too can grow food for life.
"I think we were blessed to be part of the program in Tutu. Tutu opened a new door for us. Without Tutu, we wouldn't be where we are now," says Eric. "And it's only possible thanks to you wonderful people of Australia, your love, your care, your concern for us Fijian people… The only thing we can say from our hearts is, thank you, thank you and thank you."
The Tutu Rural Training Centre provides Fijian men and women with the skills training they need to help them transform their lives. Courses include the four-year Young Farmer Training Course, alongside the six-month Women's Course, and the six-month Married Couples Course. So far, thousands of people have received training at Tutu and are using their skills to create better health and better futures for their families.
Please donate to Project Compassion 2015 and help people in isolated areas of Fiji gain the skills they need to build healthy families and grow food for life.
To donate to Project Compassion, or for fundraising ideas, go to www.caritas.org.au/projectcompassion or phone 1800 024 413.