Faith Alive at Emmaus Community
FAITH ALIVE IN THE EMMAUS COMMUNITY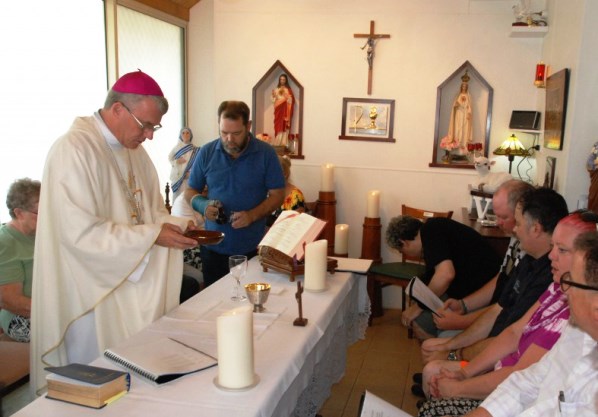 Archbishop Costelloe celebrates Mass in the intimate chapel of the Emmaus Community. PHOTO: Fayann D'Souza
Archbishop Timothy Costelloe this week visited the Emmaus Community in Queens Park, which provides long-term independent living and support for people who live with mental illness.
The Archbishop celebrated Mass with residents and friends of the community on the fifth anniversary of the founding of their community chapel.
"My visit to the Emmaus Community was a particularly enjoyable one," said Archbishop Costelloe. "I was struck by the genuine warmth and simplicity in the welcome I received, and also the depth and sincerity of the faith alive in all those who gathered in the chapel for the celebration of the Mass."
"It was evident to me," the Archbishop went on to say, "that the dignity of each person is honoured within the community and a firm yet simple consideration is given to the needs of each other."
Community members, staff, and other invited guests filled the small prayer space which gave rise to a time of unexpected impromptu sharing.
"The homily was so special to the community," said Br Al Archer, the community's director. "The Archbishop made us all feel very much at ease so much so that even the quieter and shyer members present at the Mass felt confident enough to openly speak and share in the company of others. For all of us it was a truly memorable visit. Days after, members are still talking about it."
The spiritual beginning of the Emmaus Community first began in 1996, with the first residential house opening in 2000. The community was deliberately created to be a home rather than a hostel or a crisis centre where people with mental health issues are able to live independently.