St Jerome celebrates 80th anniversary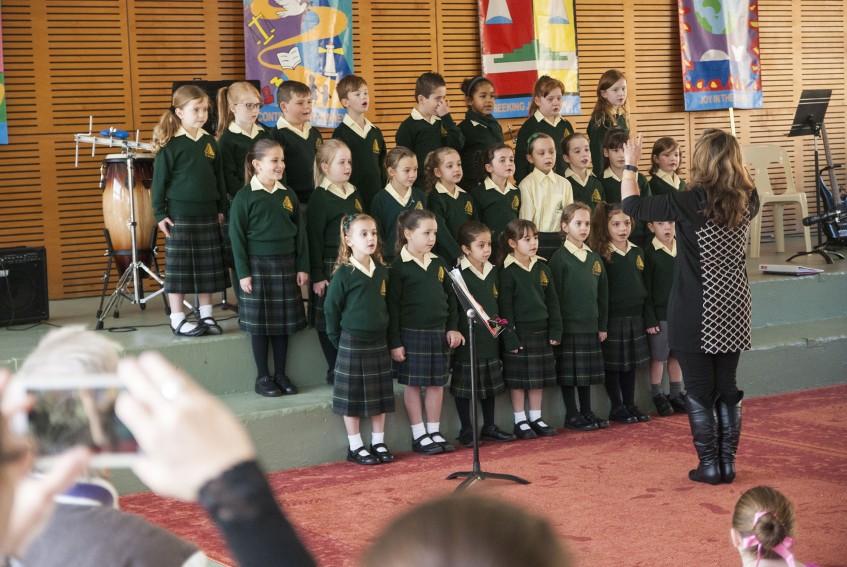 St Jerome's Primary School celebrated its 80th anniversary with Mass at the adjoining parish and included an Open Day at the school with student performances, as pictured, and a variety of activities. PHOTO: Mat De Sousa
By Mat De Sousa
St Jerome's Primary School in Munster celebrated its 80th Anniversary on Sunday, 9 August, with a fun-filled program of entertainment, games and art enjoyed by students and staff, past and present.
Despite the forecast of rain, more than 400 people packed St Jerome's Parish at the Anniversary Mass which was assisted by St Jerome's Primary School staff and celebrated by parish priest, Father Mathew Velliyamkandathil CRS, together with co-celebrant, Fr Paul Raj.
Also present at the celebration was local 'living treasure', Sister Canisius, a member of the Sisters of St Joseph of the Apparition, who was a past principal and taught at the school from 1936 until 1960.
"At 100 years of age, Sr Canisius honoured us with her bright personality and amazing memory of days gone by which delighted her many past students," said St Jerome's Primary School Principal, Helen O'Toole.
During the Mass, co-celebrant Fr Paul Raj shared with the congregation experiences from his time as assistant priest of St Jerome's Parish (1997-98), re-living his memories of giving pastoral support to the staff and students at the adjoining primary school.
Commending former and current staff for their commitment to high standards of education centred on strong Catholic teaching, Fr Paul cited the example of St Jerome who spent his life expanding his knowledge of scripture to further his knowledge of Christ for the benefit of the Church.
The Mass was orchestrated with music from the parish choir and a liturgical dance routine by a group of students ranging from Years 2 to 6.
At the conclusion of Mass, those present were invited across to the school for a special open day where the celebrations continued with entertainment by students, activities run by staff and an exhibition of school memorabilia held in the library.
"Celebrating 80 years as a Catholic school in this local area is a reason to give thanks to God for all the abundant blessings that have been received over the years," said Ms O'Toole in reflection of the milestone.
"Today, we remember the prayers of our first parishioners, who asked to have a Catholic school, and celebrate its fulfilment through the generosity of the sisters of St Joseph of the Apparition.
"From the little church school which began with only 49 students, we today have over 700 of whom many are third generation St Jerome's students."
Founded some 80 years ago, in 1935, St Jerome's Primary School's first classes were conducted in the small church on the corner of Rockingham Road and Edeline Street, Spearwood.
In 1978, the school was re-located to its present site on the corner of Troode Street and Rockingham Road, Munster, and has grown to a diverse, three-stream school catering for children from three years old to Year 6.
In the early 1990s, St Jerome's Primary School was a pilot school for an innovative administration structure that is widely used in Catholic primary schools today.