Fr Stephen Cooney celebrates 60 years of priesthood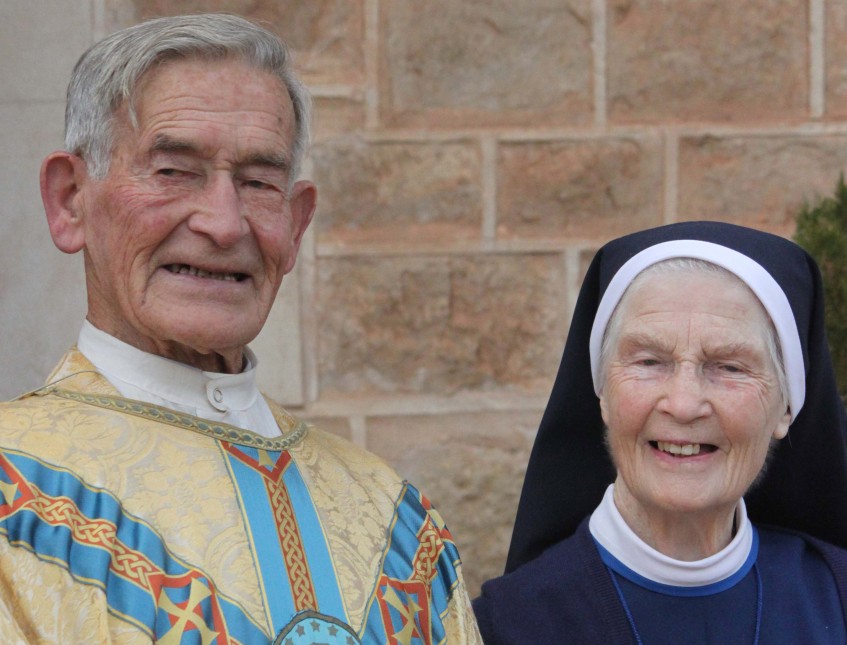 Fr Stephen Cooney OPraem, who recently celebrated his Diamond Jubilee, stands next to his sister, Sr Gerard Cooney, who belongs to the Sisters of Nazareth, Geraldton. PHOTO: Supplied
By Marco Ceccarelli
More than 150 people last month attended the 60th anniversary of Norbertine priest Father Stephen Cooney OPraem, who is currently the parish priest of St Patrick's Parish, York.
The celebrations began with a Mass on Friday, 3 July, celebrated by Fr Cooney, at St Joseph's Priory in Queens Park, the home of the Norbertines in Perth, together with co-celebrants Fr Stephen Prasootsaengchan, Fr Joshy Arimana Chacko OPraem, Fr Michael Raymond OFM and Fr Peter Joseph Stiglich OPraem.
The festivities continued into the evening with food and drinks shared among the numerous guests.
A special Mass was also held on Sunday, 5 July at St Patrick's York with Fr Joshy OPraem, Fr Stephen Prasootsaengchan, and Goomalling parish priest Fr Ken de Souza OFM Cap.
The significant number of attendees to the anniversary celebrations comes as no surprise – Fr Stephen has played a significant role in the history of the Catholic Church in Western Australia.
Originally from County Cavan, Ireland, Fr Stephen was ordained at Holy Trinity Abbey, Kilnacrott, on 2 July 1955, before being invited four years later by then Archbishop Redmond Prendiville to work in the growing Archdiocese of Perth.
He arrived in November 1959 and joined fellow Norbertines Fr Peter O'Reilly and Fr John Reynolds, who had arrived earlier in May, with the intention of establishing a monastery in York, approximately 100km east of Perth.
A property was eventually purchased and used as a foundation home from which the Norbertines could actively engage in various pastoral works in the country, city and surrounding areas.
Fr Stephen has been involved with Catholic charities such as Aid to the Church in Need and continues to be engaged in pastoral work, showing no signs of slowing down.
"I feel that my life has been good, active and challenging. I am amazed at how all of this has come and gone so fast. It feels as though it were only yesterday that I was ordained. These years have really flown by," Fr Stephen said.
"I thank all those who have supported me in these 60 years, particularly the local community, the people in the parishes I serve, as well as those who arranged the celebrations of my 60th Jubilee. There are too many to name individually.
"I also thank God for my vocation, good health and the happiness with which I have been blessed to serve God," he added.
Fr Stephen hopes that good health will continue to assist him in his ministry as he strives to continue working in the Lord's vineyard and tending to the sheep of His flock.