Archdiocese of Perth in focus at encounter with Pope Francis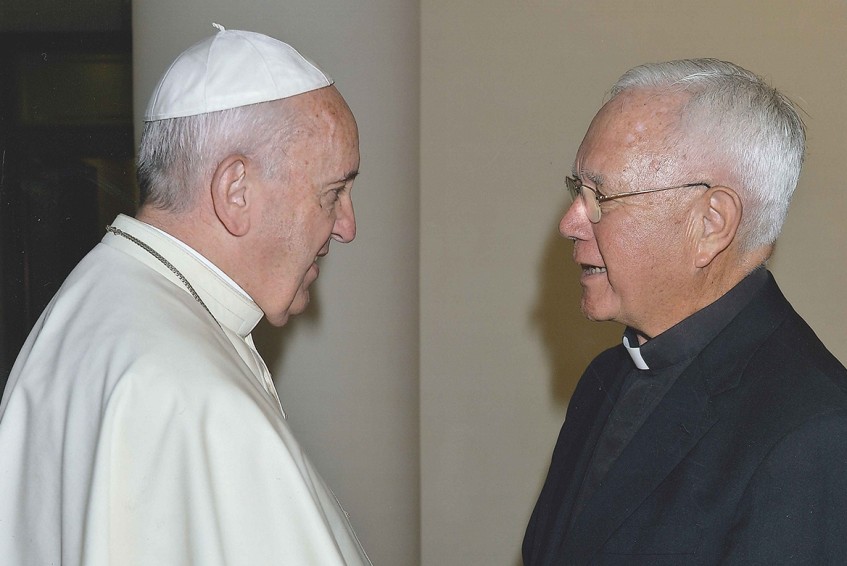 A friendly exchange: Monsignor Michael Keating meets Pope Francis following a Mass at Casa San Marta on Friday, 26 June 2015. PHOTO: Supplied
By Marco Ceccarelli
The Archdiocese of Perth's Judicial Vicar and Dean of St Mary's Cathedral, Monsignor Michael Keating, had the privilege of meeting with Pope Francis on Friday, 26 June 2015, following a Mass at Casa San Marta.
Pope Francis concelebrated Mass with more than 20 priests and approximately 50 lay people in the chapel of the Casa.
"I was very moved by the Mass," Mgr Keating said. "As he celebrated the Eucharist, the Pope held up the host and chalice for a long time, eyes fixed on the Body and Blood of Christ, and a look of deep prayer on his face. It has since had a strong influence on my way of celebrating Mass."
In true Papa Francesco fashion, at the end of Mass the Pope met with his guests individually, giving each sufficient time to further introduce themselves and exchange a few words.
Mgr Keating spoke with the Pope, thanked him for his encyclical on the environment Laudato Si' and briefly talked about his background.
"I explained that I was Australian and that my Archbishop is a Salesian, a sentence to which the Pope replied: 'Perth'. I was pleased and a little amazed at his prompt response," Mgr Keating said.
Mgr Keating was in Rome as part of a trip to Turkey in which he led 34 people to commemorate the 100th anniversary of the ANZAC landings at Gallipoli.
During his stay at the Vatican, he also had the opportunity to meet with long-time friend, Cardinal George Pell, together with Mgr Peter Kenny of Melbourne, who also met with the Pope and Cardinal Pell.
Always delighted to receive friends from Australia, Cardinal Pell warmly welcomed Mgrs Kenny and Keating. Cardinal Pell spoke about the support he receives from the Pope in his role as Prefect of the Secretariat for the Economy.
Mgr Keating is no stranger to the Eternal City and the winding roads of the Vatican.
He has repeatedly walked the streets of Rome as leader of different pilgrimages and has spent a significant number of formative years at the renowned Pontificio Collegio Urbano "de Propaganda Fide" and afterwards at St Peter's College for student priests.
Back in Perth, he speaks of Pope Francis as a "pastoral Pope" committed to the needs of those of the Lord's sheep.
The Pontiff's final words to Mgr Keating, "pray for me", come as a reminder to keep Pope Francis in our prayers as he steers the Church throughout our contemporary age.