Orchestral Mass highlights work of composer George Palmer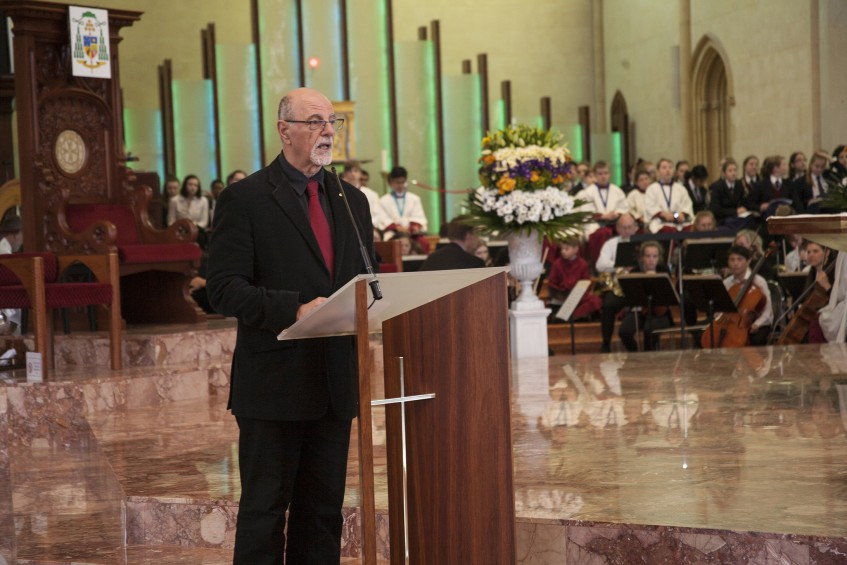 Internationally acclaimed Australian composer, George Palmer addresses the congregation on Sunday, 26 July as part of a special performance at St Mary's Cathedral. PHOTO: Jamie O'Brien
By Jamie O'Brien
The Archdiocese was last month honoured with a performance of Missa Benedictus Qui Venit from internationally acclaimed Australian composer, George Palmer, at a special Orchestral Mass at St Mary's Cathedral.
Conducted by Dr Nicholas Bannan, Missa Benedictus Qui Venit was performed by a specially formed orchestra for the occasion, during the 11am Mass on Sunday, 27 July, presided over by Monsignor Michael Keating and in the presence of some 200 people.
The orchestra, which was joined by the Cathedral Choir and Corpus Christi College Choir, included students from Carine Senior High School, Christian Brothers College, Fremantle, Ellenbrook Secondary College, La Salle College, Perth College, UWA School of Music, Shenton College and Trinity College.
Director of Music at St Mary's Cathedral, Jacinta Jakovcevic, said the intention of the Orchestral Mass was to encourage the participation of music students to play their instruments for a liturgical celebration, while also giving the congregation the opportunity to participate in a liturgy with a full orchestra.
Mr Palmer, who lives in Sydney and was also present for the occasion, gave an address to the congregation, saying that the inspiration for the Missa Benedictus Qui Venit was undoubtedly the spiritual energy and hope of youth.
"As young people, we all start out as energetic idealists, convinced we can change the world and make it a better place," Mr Palmer said.
"Often, that energy dissipates as we get older - we become resigned.
"I wanted to remind all of us that spiritual energy and idealism are what make us truly alive - this is what Pope Francis is constantly telling us," he said.
The former Judge of the New South Wales Supreme Court, who studied piano and has been composing since he was a teenager, retired as a Judge in 2011 to devote himself entirely to composition.
In 2003, Palmer's music came to the attention of the ABC, resulting in a live broadcast of a concert of his orchestral music, a television program and the subsequent release by ABC Classics of two CDs, Attraction of Opposites, containing his orchestral music, and Exultate Dominum, containing choral music.
His works include music for large orchestra, chamber ensembles, choir a cappella and with orchestra, song cycles and concertos for a variety of instruments. His work has been performed by leading orchestras, soloists and chamber groups throughout Australia and New Zealand, and in the USA and Europe. He is currently working on an opera of Tim Winton's best-selling novel, Cloudstreet, which will be produced by State Opera South Australia in 2016.
For World Youth Day Sydney 2008, he was commissioned to write a Mass, Benedictus Qui Venit, for choir, orchestra and soloists, which was performed in the presence of the Pope and a congregation of 350,000.
In an interview with eRecord Editor Jamie O'Brien, Mr Palmer said he has always felt the need to express myself in music.
"From early childhood, I was writing down simple melodies and making up little pieces. It's a way of communicating much more powerfully and directly than one can do in words - words are too precise, and therefore limiting, at times to convey the complexity and richness of what one feels," Mr Palmer said.
"For me, music is engagement with other people and sharing the full range of human emotions."
Mr Palmer continued talking about the link between his faith and his music.
"Music is my way of expressing what I feel, including how I feel about my explorations in faith and spirituality.
"I have now composed two Masses, the first being a Mass for Christmas, A Child Is Born, and the second, of course, the World Youth Day 2008 Mass.
"I hope the music in each expresses both the yearning towards God and the joy of praise that we all share in moments of heightened spiritual experience."
Mr Palmer went on to say that, having been educated by the Jesuits, he was taught to question – and his journey in faith has been a constant self-questioning.
"When it all becomes too complicated and tangled, I often go back simply to reading the Gospels - they encapsulate for me the human experience of God."
Mr Palmer is currently working on the opera of Tim Winton's novel, Cloudstreet, as well as a Cello Concerto for the principal cellist of the Sydney Symphony Orchestra and a quartet for flute and strings for the principal flautist of the Sydney Symphony.