Help is at hand for students at Notre Dame's Open Day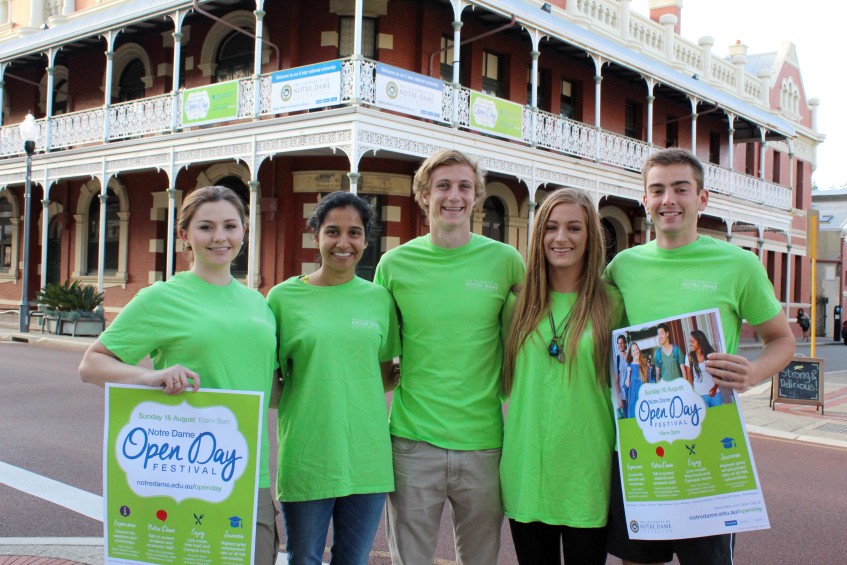 Notre Dame Student Ambassadors Jessica Murray, Karess Dias, Jacob Rees, Allanah Robinson-Cook and Tim Jones will speak to thousands of prospective students at the Open Day Festival in Fremantle's West End on Sunday, 16 August. PHOTO: University of Notre Dame
Prospective university students will be able to get the advice they need as they consider their future course and career path options at The University of Notre Dame Australia's Open Day Festival on Sunday, 16 August 2015.
From 10am to 3pm, the national Catholic university will open the doors of its historic buildings in Fremantle's West End to prospective students and their families at this annual event.
Visitors can take part in a range of hands-on activities at the various academic Schools; find out about the university's unique admissions process; hear from graduates about why they rate Notre Dame as a 5-star university; and enjoy the silent disco in St Teresa's Library. Campus tours will also depart every 30 minutes from the Drill Hall on Mouat Street, commencing at 10am.
Notre Dame students have fond memories of coming to their first Notre Dame Open Day.
"My Notre Dame Open Day experience was really fun. The minute I stepped onto campus, everyone was really welcoming and friendly and they were all wanting to answer my questions. It was the day that I knew I wanted to be at Notre Dame," Karess Dias, a Bachelor of Laws/Arts student and Early Offer recipient, said.
Jacob Rees, a Bachelor of Education (Primary) student, said his Notre Dame Open Day experience centred on having the opportunity to speak with university academics about available courses that suited his career ambitions.
"Notre Dame just seemed like it was a really big family and community. If anyone is considering university study in 2016, come down to Notre Dame's Open Day Festival because it's a great opportunity to find out about the university and experience study life in Fremantle," Jacob said.
Liz Beal, Deputy Director, Admissions and Student Services, said attending university events, such as Open Day, gave people the best possible opportunity to speak with lecturers and current students about course options, study recommendations and life as a university student.
"Not only do students have the opportunity to walk through buildings and familiarise themselves with the physical beauty of the campus, but they can also speak with university staff and experience the personal nature of studying at Notre Dame," Ms Beal said.
"Notre Dame students are part of a vibrant community atmosphere, underpinned by the university's Objects which include providing an excellent standard of training for the professions and pastoral care for students."
For full event program details, visit notredame.edu.au/openday. People can also personalise their Open Day program there. All are welcome to join the university's online community via #MyNotreDame or on facebook.com/notredameaustralia.