Bishop Griver Biographer to take up position with Landgate
Article by Fr R Cross

Mr Odhran O'Brien, who recently submitted his Master's thesis on the life and Bishop Griver, will soon take up a position in the Western Australian Department of Land Administration.

In recent weeks, Mr O'Brien has been engaged by the Archdiocese to help with the planning and implimentation of the Reinterment of Bishop John Brady, Perth's first Bishop.

Mr O'Brien has had a close connection with the Bishop Brady project having travelled to Amelie-les-Bains in southern France in March this year to assist with the exhumation and archival research.The reintement of Bishop Brady will be celebrated on 2 August 2011 at St Mary's Cathedral, commencing at 6.30pm.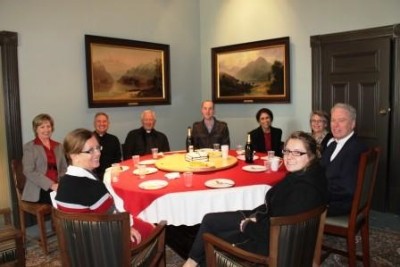 Above: The Cathedral Office Staff celebrate Mr Odhran O'Brien's appointment with Landgate
Photo by Fr D Vuong