The 2013 BJ Hickey Biblical Foundation Scholarship Recipients
At a special morning tea hosted by the BJ Hickey Biblical Foundation in the Cathedral Presbytery on 20 December 2013, Archbishop Timothy Costelloe SDB congratulated and awarded the 2013 BJ Hickey Biblical Foundation Scholarships.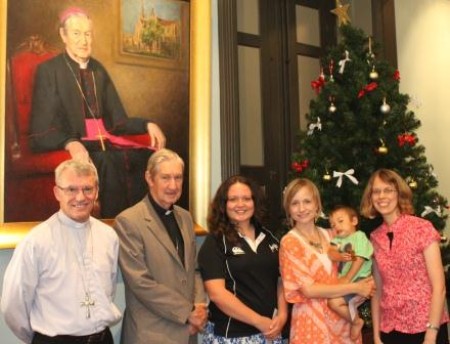 The recipents of the scholarships were:
Geetanjali Arora: Geetanjali will be attending the 2014 Summer Intensive Language school in Jerusalem at the Rothberg International School in order to start learning basic biblical Hebrew. She hopes to be a university professor in the future and aid in forming the inquisitive minds of young people.
Vicky Burrows: Vicky has received a scholarship to undertake a four-week programme at the Tantur Ecumentical Institute in Jerusalem. She believes that the experience will be of great benefit for her personal faith development as well as her work in the Archdiocese as a Prison Pastoral Worker and as a mentor of young people.
Cora D'Souza: Cora has also received a scholarship to undertake a four-week programme at the Tantur Ecumenical Institute in Jerusalem. Cora is involved in her parish – Mary MacKillop Catholic Community in Ballajura – in a variety of capacities. She explains, "The biblical Word forms the basis of my Catholic faith and impassions all my pastoral activity."
Hayley Doan: Hayley will be undertaking several courses on Scripture delivered by the Catholic Education Office and accredited by the University of Notre Dame. In the short term, Hayley hopes to use her studies to help establish and facilitate a Bible study / prayer group combined with a playgroup. In the long term, she hopes to become a secondary school teacher.
Sr Bernadette Kairouz: Sr Bernadette's scholarship is for a course on the Scriptures offered by the Broken Bay Institute. Her studies will enrich the spiritual activities her community already has in place and also provide further potential for Scripture sharing groups in local parishes.