160 plus on the road to becoming Catholic
By: B Spinks, Photos: Supplied
Archbishop Barry Hickey and Auxiliary Bishop Don Sproxton presided over the 'Rite of Election' on 1 March at St Mary's Cathedral in Perth for more than 160 people who are on the road to becoming full members of the Catholic Church.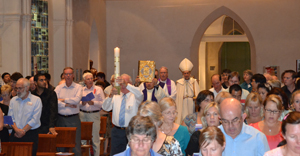 The 'Rite of Election of Catechumens' (for those who are receiving instruction from a catechist with a view to baptism) and 'Formal Recognition of Candidates' (for those who are baptised in another Christian denomination) is an extraordinary liturgy, which takes place in the Catholic Church around the world during the Lenten season.

Karen Hart, the Perth Archdiocesan coordinator for the Rite of Christian Initiation of Adults (RCIA) program, said that the "particular joy of this solemnity" is the recognition that God is indeed calling people into the life of the Church through the Sacraments of Initiation.

"The Church believes that no one comes to faith without being called by God. God initiates, God calls, God converts," she said.

During this Liturgy, the Archbishop, speaking for the Church, articulated God's invitation and 'election' to those 'electing' to become full members of the Catholic faith, she said.

Each sponsor introduced his or her catechumen or candidate to Archbishop Hickey and Bishop Sproxton during the liturgy.

Their names were inscribed in the Book of Elect for the Catechumens and the Book of Recognition for the Candidates.

Several parishes across Perth are involved in the ministry of RCIA and make a welcome home for those whom Christ has called to "come and see" (John 1:39) how Catholics live, pray and worship.

In these parishes, during the season of Lent, the 'elect',while deepening their personal relationship with Christ, will reflect and discern their readiness to receive the Sacraments of Initiation – Baptism, Confirmation and Holy Communion - at Easter.

There were more than 90 catechumens and 60 candidates introduced to Archbishop Hickey and Bishop Sproxton during the Liturgy.
| | |
| --- | --- |
| | |