Archbishop to feature on 98.5 Sonshine FM radio
Article by B Spinks, Photo Fr R. Cross
Archbishop Hickey was in the radio studio at Sonshine FM in Como on 29 November to voice a radio series to be broadcast in the coming weeks.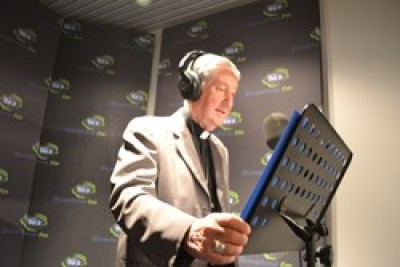 In this six-segment "Words of Jesus" series, Archbishop Hickey proclaims the good news of Jesus taking inspiration from various sayings of Jesus in the Gospels of Matthew and Luke.
He invites the listener to ponder God's voice in their life by tuning into the theme of the chosen Scripture quote in each of the six messages.
Archbishop Hickey is also using these radio messages to invite listeners to come into the new Archdiocesan Faith Centre, which is focussed on evangelisation and Catholic culture.
98.5 Sonshine FM will begin broadcasting the series of six short messages from December onwards.
Tune into Sonshine radio on 98.5 FM to hear a piece of good news.