Archbishop Hickey & Bishop Sproxton return
Photo: Courtesy L'Osservatore Romano
Archbishop Hickey and Bishop Sproxton are both returned from the "Ad Limina" visit to the Holy Father. Today we bring you Archbishop Hickey's report on the two-week event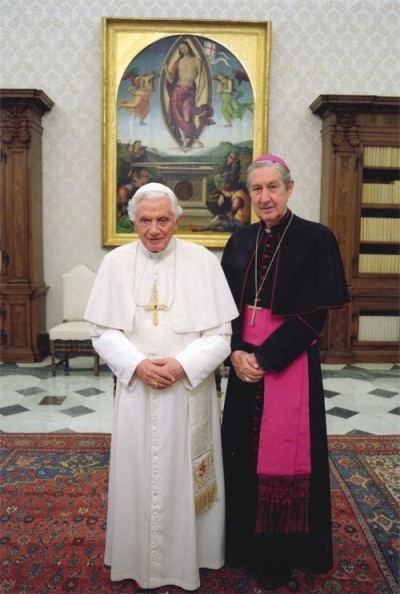 Archbishop Hickey writes:

For two weeks in October, Bishop Sproxton and I joined the other Bishops of Australia for our official visit to the Holy Father, Pope Benedict XVI. This visit, made every five years, is called the "Ad Limina" visit, that is, a visit to the "Threshold" of the Holy Father.
There are three main purposes of this long tradition of visiting the Pope.
1. The first is to affirm our loyalty and unity with the Holy Father in his essential role as successor of St Peter.
It is clear from the words of Jesus himself and the early history of the Church that Peter was appointed head of the Apostles and head of the Church by Jesus Himself. From Pentecost onwards, Peter was accepted as the leader of the Church with the "power of the keys," recalling the promise of Jesus to give him the "keys of the Kingdom of God" with the power to bind and to loose.
He led the Church in union with the other Apostles, who became the early Bishops of the Church. St Peter, as we know, was first in Jerusalem then finally in Rome as its Bishop.
Today the successors of the Apostles, the Bishops of the World, govern the Church in union with the Bishop of Rome, the successor of St Peter.
In Rome we had the opportunity of meeting the Holy Father personally and as a group. We used the occasion to affirm our loyalty and unity with the Holy Father and our affection for him.
2. Our visit to Rome strengthened the bonds between all of the Bishops of Australia. Through our daily interaction, our meals together, our Masses and prayers together, we came together more strongly as a group in the responsibility of governance and well-being of the Church in Australia.
3. We were able to make contact with the many Congregations, Councils and Commissions that help the Holy Father in his administrative role. We were able to bring up local issues with members of these bodies, or "dicasteries" as they were called, issues to do with the clergy, the Liturgy, especially the New Translation of the Missal, seminaries, Catholic education and many other aspects of the Australian church.
One of the principal themes addressed with the Holy Father and the Vatican office was the "New Evangelisation," that is the missionary outreach to the secular culture in which the Australian church exists, in which to bring the Gospel afresh to the contemporary world.
Now that we are back home we pray for the grace and strength to strengthen the faith of our brothers and sisters with new vigour and enthusiasm and to offer the Gospel or Good News of Jesus Christ in our local Australian context.