Cathedral Hosts NAIDOC Week Celebration
Article and photographs by Fr R Cross

Archbishop Hickey and Monsignor Keating (Dean of St Mary's Cathedral), welcomed hundreds of Aboriginal Elders, adults, Catholic schools students and staff to St Mary's Cathedral for a para-liturgical celebration of NAIDOC Week.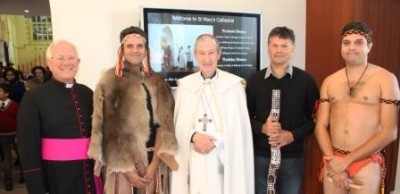 NAIDOC Week is a week of celebration of Aboriginal and Torres Strait Islander peoples culture.

The word NAIDOC stands for the National Aboriginal Islander Day Observance Committee. In 1957, with the support of Federal and local governments, a committee (NAIDOC) was formed to celebrate Aboriginal culture on the first Sunday of July each year.

The theme of the 2011 National NAIDOC Week is Change - the next step is ours, and focuses on Aboriginal and Islander people taking responsibility for their own future and to plan so as to make and control change.

Photo Gallery: Photographs at the Cathedral celebration of NAIDOC Week.