Book Launch of "Our Cathedral"
Article and photographs by Fr R. Cross

On the Solemnity of the Immaculate Conception, the book "Our Cathedral", was launched by Archbishop Hickey.
"Our Cathedral" was authored by Cathedral parishioner and guide Mr John Winship and commisioned by the Historical Commission of the Archdiocese of Perth.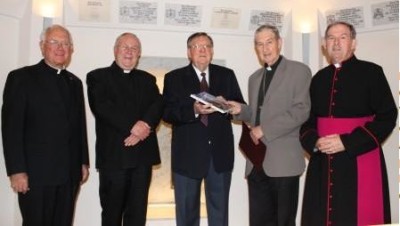 Left: Author of "Our Cathedral", Mr John Winship presents a copy of his book to the Archbishop in the presence of Mgr Keating, Mgr McDonald and Mgr O'Loughlin VG.
Monsignor Brian O'Loughlin VG chaired the book launch and gave a short welcome and introduction to the invited guests.
Archbishop Hickey welcomed this valuable addition to the historical research of Archdiocese.
Copies of the book are available from the Church Office and The Record Bookshop.