SPECIAL REPORT: Pinoy Catholics celebrate Santo Niño Fiesta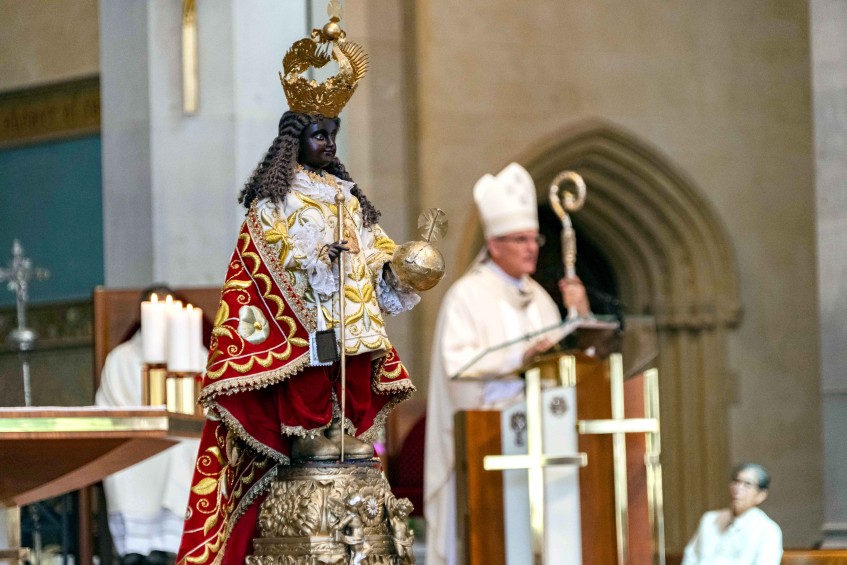 The Feast of Sto Niño is celebrated in the Philippines and by Filipino Catholics across the globe. Photo: Matthew Lau.
By Matthew Lau
Exclamations of "Viva Pit Señor, Santo Niño!" reverberated through St Mary's Cathedral on 20 January to venerate the Holy Child Jesus.
Last Sunday was the first time a Sto Niño feast service had been held at the Cathedral, jointly organised by Damayang Filipino Inc and the Filipino Cathedral Core Group.
Sinulog-Santo Niño Festival is celebrated annually on the third Sunday of January, and is a major celebration for Filipinos worldwide.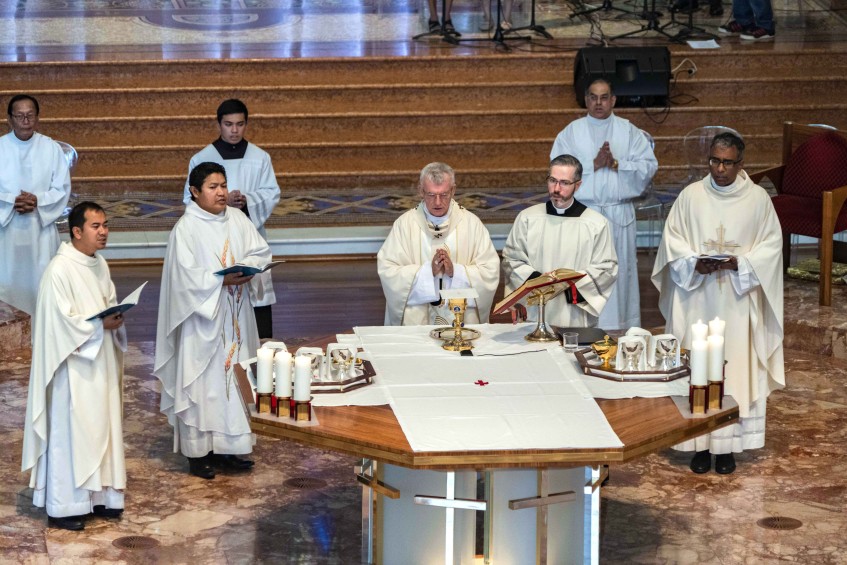 Fr Jeffey Casabuena, Fr Concord Bagaoisan OSJ, Archbishop Timothy Costelloe SDB, Fr Conor Steadman, and Cathedral Dean Fr Sean Fernandez consecrate the Blessed Sacrament on the altar. Photo: Matthew Lau.
Archbishop Timothy Costelloe SDB officiated the Mass with concelebrants Fr Sean Fernandez, Fr Jeffey Casabuena, Fr Conor Steadman, and Bunbury Diocese priest Fr Concord Bagaoisan OSJ.
Fr Casabuena proclaimed the Gospel of Luke (2:41-52) during his final Sunday Mass as Cathedral Assistant Priest, as he has this week commenced his new pastoral placement in Kalgoorlie.
The Prayers of the Faithful were verbalised in various Filipino dialects.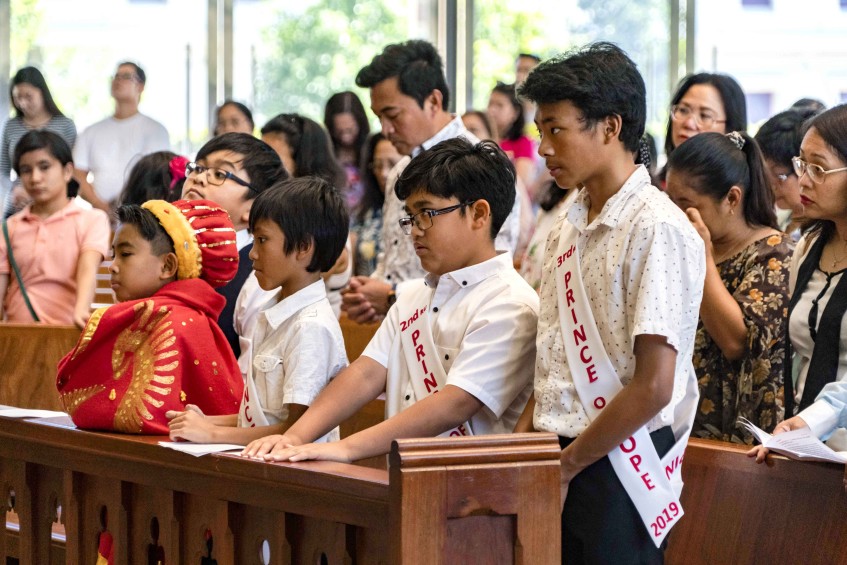 The Santo Niño king and princes during a special 2pm Mass to mark the Feast of Santo Niño at St Mary's Cathedral on Sunday 20 January. Photo: Matthew Lau.
Speaking during his homily, Archbishop Costelloe noted that while Christians focus on the end of Jesus' life, the feast of Child Jesus reminds us that all aspects of his life are significant.
"We know very little historically [about his childhood], but which, like all of us, must have been so important in terms of his growing understanding of himself and his relationship with God his Father," Archbishop Costelloe highlighted.
"One of the things I admire very much about your own devotion to el Santo Niño, is that these celebrations really invite us to focus very strongly on the humanity of Jesus.
"What is more human than a 12-year-old boy full of enthusiasm for life and eager to experience everything around him, even to the point where in his enthusiasm he perhaps doesn't realise that what he is doing might make his parents anxious?" Archbishop Costelloe asked.
"This is what we remember in today's Gospel – it is mirrored in the experience of so many parents and their children."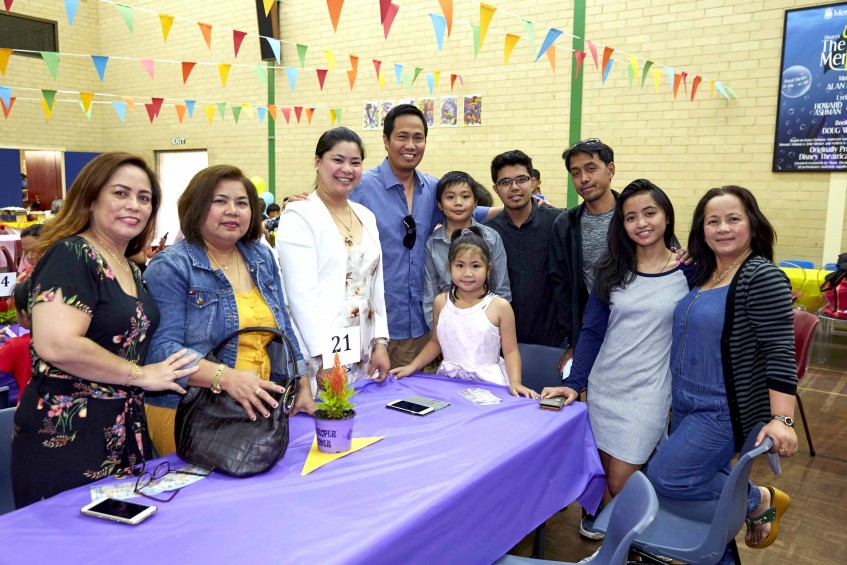 A separate fundraising event on Saturday 8 December 2018 began with a Mass celebrated by Fr Jeffey Casabuena, followed by a community dinner and entertainment at Mercedes College. Photo: Ron Tan.
The Perth Archbishop explained that at the heart of Christmas lies an extraordinary truth: that God came among us as one of us, and "shared in every human reality from the inside".
"In his own time and place, he went through the same range of human experiences that we all do. He understands us, as I say, from the inside – and it is because he understands us, that he knows us through and through, that he loves us.
"The one experience that Jesus did not have was an experience of personal sin," Archbishop Costelloe added.
"That Jesus never committed sin does not make him a 'super human' – it makes him truly and deeply human. When we sin, as we all do, and excuse ourselves by saying: 'Well, I'm only human after all', we are not really speaking the truth.
"Sin does not make us human – it makes us less than fully human, because it makes us less than God has created us to be."
Sto Niño devotion in Western Australia began in Albany in 1975 when Ted and Florita Cue arrived as migrants.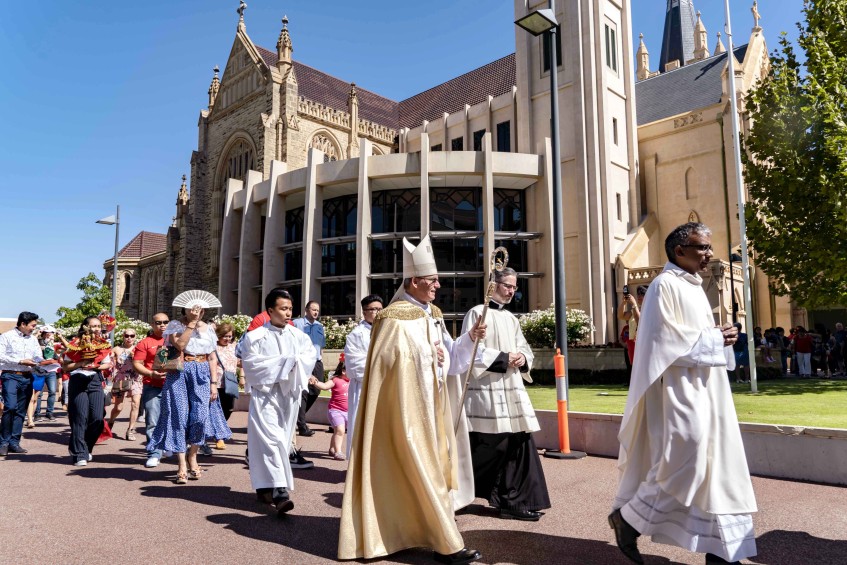 Archbishop Costelloe, concelebrating priests and the congregation process around St Mary's Cathedral holding icons of Infant Jesus on 20 January 2019 after the Mass had ended. Photo: Matthew Lau.
After moving to Perth in 1987, the Cue family initially fêted the festival in their own home. However, as the number of devotees increased, St Joachim's Church became the venue with the blessing of then-Archbishop William Foley.
As Victoria Park Parish was later utilised as the Pro-Cathedral during the renovations of St Mary's, the Filipino services moved to Redemptorist Monastery Church.
Mrs Cue was pleased that the service took place at the Cathedral for the first time.
"Once we pass away, hopefully the next generations will continue to celebrate this fiesta," she said.
Last month, the Filipino Catholic community congregated on 8 December for a dinner gathering in the Mercedes College Hall to fundraise $7495 for the Cathedral's needs.