Archives Office
About Us
Our office is the official archive for the Roman Catholic Archbishop of Perth, the administration of Perth Archdiocese and St Mary's Cathedral. We hold limited sacramental records from 1845 and maintain a Central Baptism Database. Catholic schools and religious orders of the Archdiocese are required to retain their own records. In Western Australia, the Dioceses of Geraldton (1898), Bunbury (1954) and Broome (1959) maintain a diocesan archive. For further detail about our records please refer to the content below.
Please see our Vision Statement, Mission and Service Charter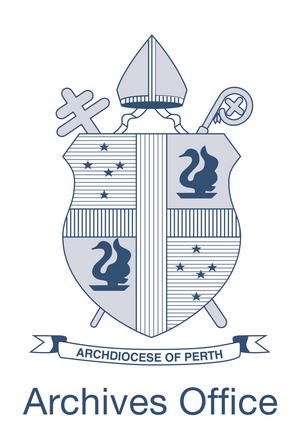 Contact Us
The Archives Office is open to the public by appointment from 10 am to 2 pm Monday to Friday. Appointments can be made by emailing the office: archives@perthcatholic.org.au or calling 6104 3626.
For research enquiries, please complete and submit the relevant form available below, and include as much information as possible. The form can be sent via email or post if necessary. Should require any assistance in completing the form please contact us.
| | |
| --- | --- |
| Archivist: | Mr Odhran O'Brien |
| | |
| --- | --- |
| | |
| Address: | 193 Harold St, Mt Lawley WA 6050, Australia |
| Mailing: | 40A Mary St, Highgate WA 6003, Australia |
| Phone: | (08) 6104 3626 |
| Email: | archives@perthcatholic.org.au |
| Website: | www.perthcatholic.org.au/Archives.htm |
Donations
Our conservation and digitisation projects help make our collection more accessible and these projects rely on donations. Unfortunately, we are not a Deductible Gift Recipient. Therefore, we cannot issue a Deductable tax receipt. Please contact us for more information.