Archbishop invites Perth Catholic Community to Pray for Paris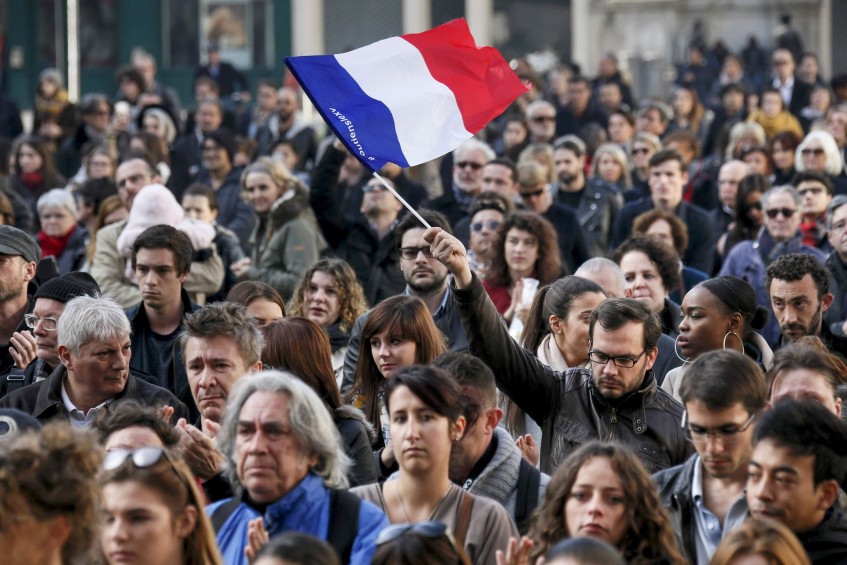 A man waves a French flag as several hundred people gather to observe a minute of silence in Lyon, France, on November 16. Photo: CNS/Robert Pratta.
By Marco Ceccarelli
Archbishop Timothy Costelloe has this week asked all parishes and other Catholic communities in the Archdiocese of Perth to unite in prayer for the victims of the terrorist attacks in Paris, which took place on Friday 13 November.
Extremist militant group ISIS have since claimed responsibility for the seven co-ordinated attacks which have caused the death of some 129 people and left more than 400 wounded.
The attack on the Bataclan concert venue in Boulevard Voltaire resulted in the most casualties. At least 89 people lost their lives when black-clad gunmen wielding assault-rifles and wearing suicide vests stormed the building.
Other targets included locations outside Paris' Stade de France, as well as inner-city bars and restaurants, such as the Petit Cambodge Cambodian restaurant, Le Carillon Bar, Casa Nostra pizzeria and La Belle Equipe Bar.
The Archbishop wrote to clergy across the Archdiocese this week, encouraging them to pray for the gift of peace and harmony.
"As the full extent of these horrors begins to emerge more clearly, and as deep concern begins to be expressed around the world concerning the implications of these attacks for all of us, I would ask that you continue to invite your people to pray for the victims and their families and friends.
"I also ask that you pray for the gift of peace and harmony which we need so much but which proves to be so elusive, both here in our own country and all around the world," the Archbishop said.
"We will soon celebrate the Solemnity of Christ the Universal King: may his kingdom come – 'a kingdom of truth and life, a kingdom of holiness and grace, a kingdom of justice, love and peace' (Preface of Christ the King)."
Archbishop Costelloe went on to say that in praying for the coming of God's kingdom, we are at the same time committing ourselves, as individuals and as communities of faith, to be signs and bearers of that kingdom not just in what we say, or pray for, but also and most particularly in the way we conduct ourselves in the face of violence, intolerance, cruelty and prejudice.
"May we prove to be," he said, "what we are all aspiring to be: a people who walk together in the footsteps of the Good Shepherd".
The words of Archbishop Costelloe were echoed in a statement released by the Australian Catholic Bishops Conference on Wednesday, 18 November, in which the Bishops expressed deep sympathies for the hundreds of innocent people killed and maimed in the attacks.
President of the Bishops Conference, Archbishop Denis Hart, expressed prayers and condolences to the victims of these horrendous attacks.
"Like all Australians, we join in solidarity with the people of France and share in the hope that the perpetrators and their networks will be swiftly brought to justice," Archbishop Hart said.

"Our shock and sadness draws us close to the victims and their families. As we mourn for them and their loved ones, we must affirm that feelings of grief and compassion are a sign of a fundamental goodness in humanity that cannot be defeated by evil," he said.

"These acts of terrorism can never be allowed to divide communities through fear and hatred. Divisive actions of hate will only serve to help evil organisations like ISIS. Their aim is to divide the world and make Muslims the enemy of the West. Hence, we must resist calls to close our borders to refugees from the Middle East. It is love and not hate that will defeat extremism.

Archbishop Hart also offered prayers for the Syrian and Iraqi refugees fleeing similar atrocities by Islamic State against Christian and other minorities and called for a strengthening of Australia's multicultural ethos in this moment.

"Here in Australia, we pray for a continued national resolve to assist refugees fleeing this violence and oppression. We pray for unity among all cultures of our diverse Australian community, and call for a special concern to ensure that Australians of Middle Eastern background and Muslims are not subject to intimidation or vilification as a result of these tragic world events."
Pope Francis sent a prompt response in the wake of the attacks, stating that he felt particularly close to the French people in this moment of mourning and sorrow.
According to Zenit, the Catholic television channel Sat 2000 made a telephone call to Pope Francis during special coverage of the Paris attacks. When asked about his reaction to the massacre, the Pope said: "I am moved, saddened and do not understand, but these things are difficult to comprehend … and so I pray. I am very close to the beloved French people, I am close to the families of the victims, and I pray for all of them."
When asked questioned by a journalist whether we were experiencing a third world war 'in pieces,' the Pope affirmed, "Yes, and this is one of the pieces. But there are no justifications for these things, …neither religious nor human. This is not human. Therefore, I am close to all those who suffer and to all France, whom I love greatly."
A memorial service was held at Notre Dame Cathedral, Paris, on Sunday, 15 November, for those who lost their lives and who were left wounded in the attacks.