Focus on service of vulnerable at Mayoral Prayer Breakfast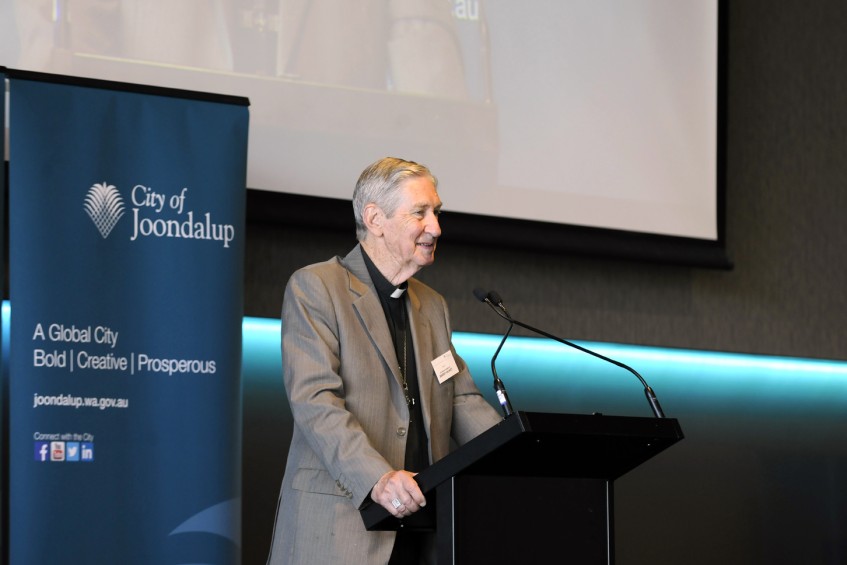 Emeritus Archbishop Barry Hickey was keynote speaker at the City of Joondalup Mayoral Prayer Breakfast, held last week on Thursday, 5 November. Photo courtesy City of Joondalup
Providing assistance and support to vulnerable and at-risk people in our community, such as the homeless, sick, aged and the poor, was the focus of the City of Joondalup's 2015 Mayoral Prayer Breakfast at Joondalup Resort's Lakeview Ballroom on Thursday, 5 November.
Keynote speaker Emeritus Archbishop Barry Hickey delivered his address to an audience of more than 150 people, saying the topic of service to the vulnerable and at risk had engaged his mind and faith for much of his life.
"Living in the city, I became aware of the numbers of homeless men and women, some still teenagers, who slept rough, and I sought to befriend many of them," he said in his address.
"I remain impressed by the love and care for the poorest people in our community, whether it be through food distribution points, free or cheap clothing, the mobile doctor, refuges for women fleeing abuse, or places where people can take a shower or have breakfast, and so on."
City of Joondalup Mayor Troy Pickard, who opened the event, said that, while Joondalup remained a popular and livable city, there had also been an increasing issue of homelessness in Perth's northern corridor.
"Sometimes all it takes it is a change in circumstances and any one of us could become homeless," he said.
"Access to housing is a basic human need and we, as a city and a council, need to adopt appropriate strategies and actively engage with relevant stakeholders to ensure those affected can find suitable housing in which to live.
"Indeed, it is our humanitarian duty to do so.
"In today's society, and in a thriving and prosperous city such as Joondalup, I don't think anyone should have to sleep without a roof over their head.
"A number of local churches and community groups currently provide drop-in facilities, care kits and food bundles in the northern corridor; and I congratulate you on your efforts to tackle this problem; however, the limited resources these organisations have access to also restricts availability for individuals and families in need.
"I have created a working group of relevant stakeholders to establish a drop-in centre in the city centre, whilst the city has initiated an investigation into establishing crisis housing in the northern corridor and working with other local governments on sharing resources.
"But redressing the incidence of homelessness and people sleeping rough requires a co-ordinated effort in the north-western corridor and will also require assistance from the state government.
"The future foundations of the city are built around enhancing the social capital and wellbeing of our local community, ensuring it remains engaged and connected, and maintaining the attractive and healthy lifestyle opportunities we are renowned for internationally."
Emeritus Archbishop Hickey went on to say that, while many services are offered, they are rarely, if ever, for emergency shelter.
"Governments prefer solutions such as long-term accommodation, but we desperately need more facilities for overnight stay, both for men and women," Emeritus Archbishop Hickey said.
"I'm very pleased the City of Joondalup is looking at different programs for the homeless, because they are here and there is no indication that they will disappear.
"The Church should not only serve the poor but embrace them, draw them into their local communities and share with them.
"Think of what this would do for lone parents and homeless families."
Mayor Pickard said it was pleasing to see the city's youth joining leaders of the local community for the breakfast, strengthening bonds and focusing on making a positive difference in the lives of family, friends and the wider region.
"The Mayoral Prayer Breakfast reached a milestone in 2015 as it was the tenth to be held, and it was fantastic to welcome 24 students from ten local high schools, as well as chaplains representing a number of other educational institutions," he said.
"It is important that the youth in attendance listen to the messages delivered by engaging and thought-provoking speakers such as Archbishop Emeritus Hickey so that they are aware of issues such as homelessness and raise awareness amongst their peers.
"In the future, they will play a vital role working alongside Church and community groups, as well as government organisations, in addressing these issues."