A sanctuary of love at Emmaus Community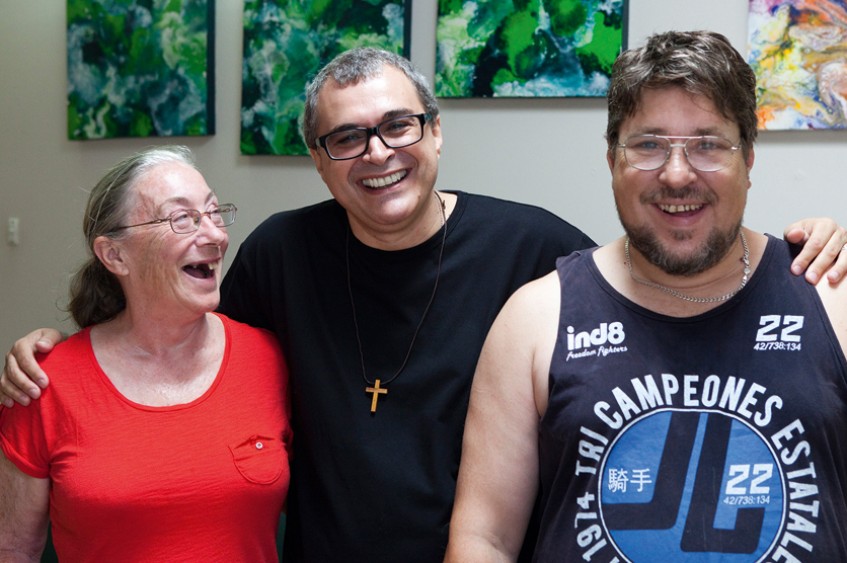 Brother Alan Archer with residents of the Emmaus Community. Photo: Supplied.
By Mark Reidy
Springtime is alive and well in the flowerbeds of the Emmaus Community in Queens Park, but it is the blossoming of human life that truly captures the spirit of this haven of restoration.
The Emmaus Community, which currently comprises nine houses, is home to 38 people living with mental health issues but, more significantly, it is a place of healing for lives that have been broken.
Although the spiritual seeds for Emmaus were planted years earlier, the first house was established in 2000 when founder Brother Alan Archer (better known as Brother Al), with the support of then Archbishop Barry Hickey, began a journey that has since provided a home for many.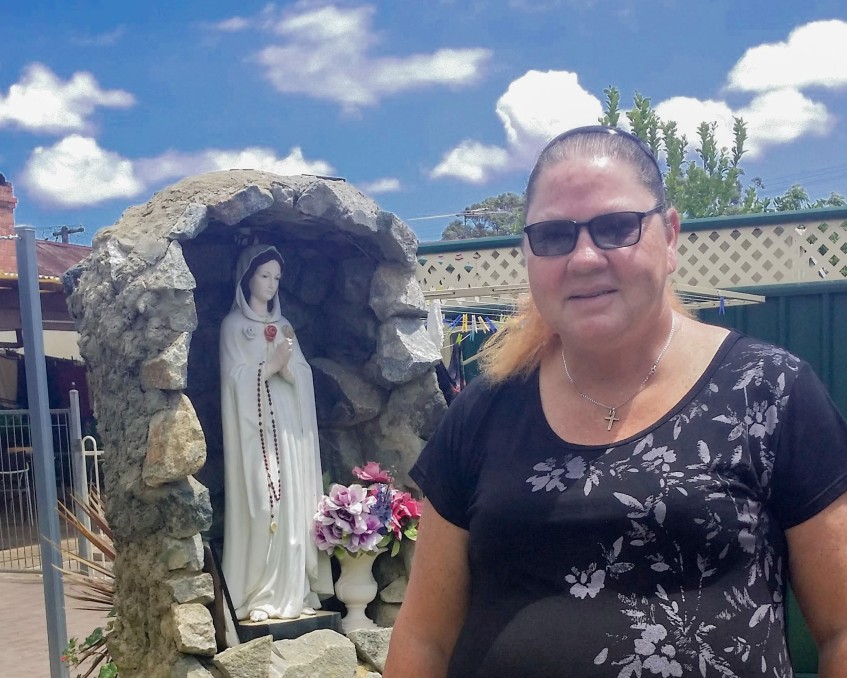 Petra has found a family, hope and a new beginning within the Emmaus Community in Queens Park. Photo: Mark Reidy
When Petra first arrived at Emmaus ten years ago, she was trapped in a cycle of mental illness, hospitalisation and hopelessness.
"My family had dumped me, I had been going in and out of hospital for many years and I felt I didn't belong anywhere," she said. "But then Br Al found me and invited me here, and now I have a family."
With well-nurtured gardens, a dog, several cats, the chirping of pet birds and a smile around every corner, it is not difficult to understand why Emmaus has become a refuge of hope for so many.
More than half the community members currently living there have been separated from their (genetic) families and were stumbling alone in the darkness and isolation associated with mental illness, before discovering a place where they could finally be accepted just as they were.
"Many of us are alike because we have been rejected by our families," Petra shared.
"But here we become brothers and sisters to one another and we know we will be cared for."
Before Petra arrived at Emmaus, she had never celebrated a birthday or Christmas and had been overwhelmed when she first experienced the opportunity to receive a gift given solely out of love and to become a part of a communal celebration. She is now responsible for setting up the Christmas lights and it has become her favourite time of the year.

"I had never been in a place where I felt secure," she smiled, "and that is the most important thing here – each and every person knows that they are loved and valued."
When Br Al first began the community, he was aware of the deficiencies of the emergency and short-term services being provided for those with mental health issues. He wanted to provide a place for people to be surrounded by a community where they could be nurtured into life without the burden of time or program restraints.
"This is a not a hostel or a crisis unit - it is a real home," Br Al shared. "This is a place where people can live independently, with support, in an environment of love."
It is a unique style of communal living that Br Al and his dedicated team have watched grow over the years and, despite the many hurdles they have encountered, in fact, because of them, they are continually convinced that Emmaus Community is a work of God.
It is an understanding reflected in the small chapel which is central to the open communal area and a place where members are welcome to join for Mass or a Communion service several times a week, as well as Adoration of the Blessed Eucharist.
At present, Br Al is in the process of seeking approval to continue expanding the community and hopes to build further houses on adjacent properties so more people can receive the spiritual, psychological, physical and emotional healing they have not been able to receive in the world beyond these walls.
"I would love every parish in the Archdiocese to establish a house in which those with mental health issues, or those who are lonely and in need of others, could live and be supported by the parish community," he announced passionately.
"It would not only provide a place for these people to belong, but it would give parishioners an avenue to live out Christ's message of love."
It is this growth that has continued to inspire Br Al and his team.
He went on to recall the lives of those who could not even leave their rooms when they first arrived, but are now thriving and contributing to the environment of love that helped resurrect them.
LifeLink agencies collectively touch the lives of more than 31,000 people in need each year through the provision of accommodation, food, clothing, financial assistance with electricity and gas accounts, and the protection of women and children escaping domestic violence and abuse.
In this year's Christmas LifeLink Appeal, the Archbishop is setting a target of $700,000 so as to help fund agencies in being able to meet the needs of those who knock on the doors of Archdiocesan agencies.
The 2015 LifeLink Christmas Appeal will be officially launched in parishes on 14 and 15 November.
To donate to LifeLink, go to www.lifelink.com.au.