Spirit of service leads two schools to new heights, great ideas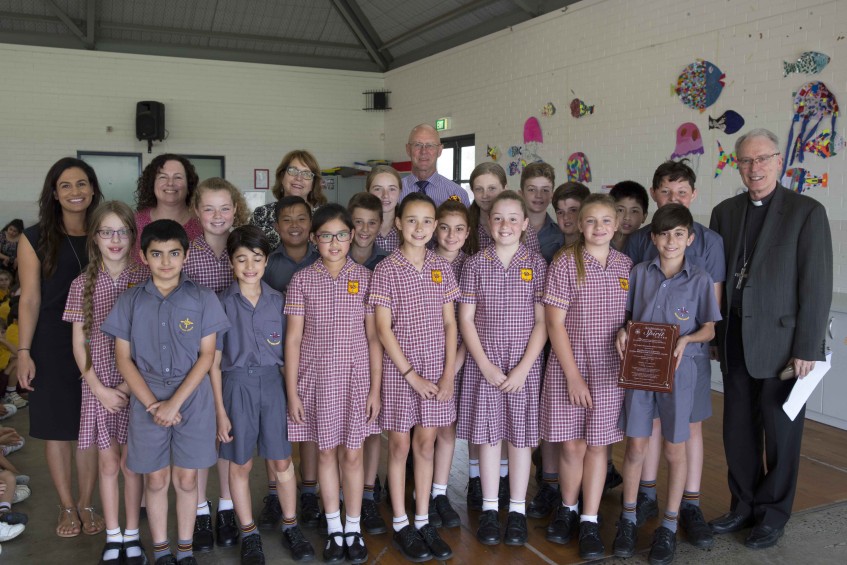 Perth Auxiliary Bishop Don Sproxton with staff and students from Our Lady's Assumption Primary School Dianella, who were joint recipients of the 2014 Archbishop's Spirit Award with Trinity College. Bishop Don made a special presentation to OLA staff and students last week, on Thursday, 22 October. Photo: Ron Tan

By Jamie O'Brien
The outstanding support and positive participation in LifeLink Day has seen Our Lady's Assumption Primary School Dianella and Trinity College East Perth being named as the recipients of the 2014 Archbishop's Spirit Award.
Since LifeLink Day was first established in 1999, one school has traditionally been selected each year to receive a special acknowledgement and token of appreciation – namely the Archbishop's Spirit Award.
The Archbishop's Spirit Award is not awarded on the basis of how much money is raised but presented to the school that shows outstanding support for, and positive participation in, LifeLink Day – this year held on Wednesday, 3 June.
It is awarded to the school which comprehensively demonstrates active support for the Archbishop's LifeLink Day initiative, embraces the goals of LifeLink Day, that is, to not only learn about the Church's response to people in need within the Archdiocese but to also undertake some form of fundraising in support of the social service agencies funded through LifeLink; commits to educating students on their responsibility to care for those less fortunate in the community and promotes an ethos of caring and compassion to students, teachers, parents and the wider community - that we all have a responsibility to show love and compassion, not just on LifeLink Day but every day.
In congratulating Our Lady's Assumption Dianella, Archbishop Costelloe said the school should take great pride in the knowledge the fundraising concept has been transformed into the 'Link up on LifeLink Day' which was launched in primary schools across the Archdiocese this year.
Our Lady's Assumption Primary School Principal David Barras said the fundraising idea was developed by Mini-Vinnies Co-ordinator Jenni Brown with the idea for students to create a physical paper link, with the intention of providing students with a tangible representation of the LifeLink initiative.
"We felt it was important for the students to understand that their fundraising efforts are part of a much broader contribution to support the poor and marginalised in our community," Mr Barras said.
"Our Lady's Assumption community has really embraced the appeal and it has become a key activity on our annual community service calendar," he said.
"As Principal, I am absolutely delighted that our school has been recognised by the Archbishop.
"We want all our students to see the value in supporting those less fortunate in our community and I believe the Spirit Award promotes an important lesson - that your contribution doesn't have to be the biggest to make a difference, you just need to contribute."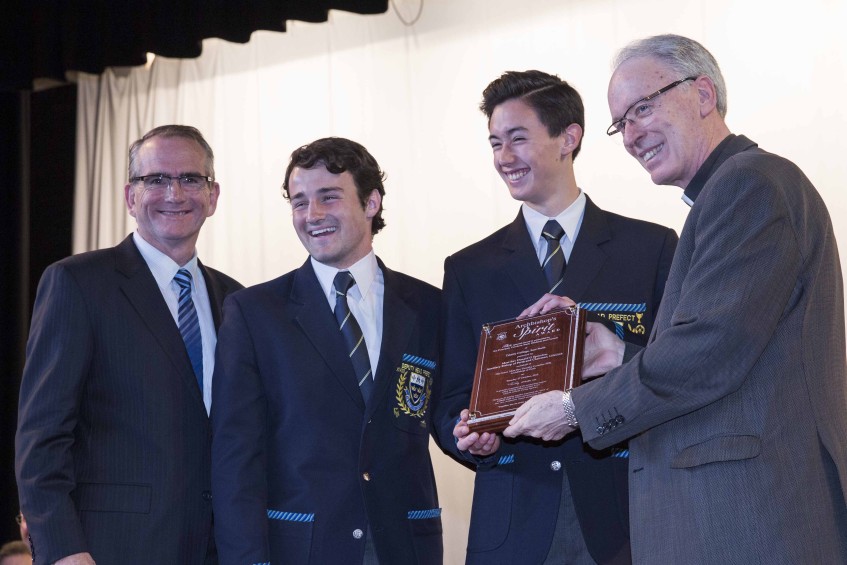 Trinity College Principal Ivan Banks with students, Nick Moulton and Alex Ishida-Livings, and Perth Auxiliary Bishop Don Sproxton, who presented students with a plaque on Tuesday, 27 October as joint recipients of the 2014 Archbishop's Spirit Award. Photo: Ron Tan
Trinity College Principal Mr Ivan Banks said he was very pleased the efforts of the students in living out the school's philosophy of being 'Men for Others' have been recognised.
"We enjoy being a part of LifeLink because we believe in the work and services that it provides, rather than seeking recognition," Mr Banks said.
Auxiliary Bishop Don Sproxton made a special presentation to Mr Barras last week, on Thursday, 22 October, and then to the Trinity College Principal on Tuesday, 27 October.
Established in 1994 by the Archdiocese of Perth, LifeLink ensures the ongoing financial and promotional support of social service agencies established or funded by the Archdiocese.
These agencies include Centrecare Inc, Djooraminda, Identitywa, Centacare Employment & Training, the Emmanuel Centre, Catholic Ministry for People who are Deaf or Hearing Impaired, The Shopfront, Samaritan Projects, DayDawn Advocacy Centre and the Emmaus Community.
Each year, more than 34,000 Western Australians are helped by a LifeLink agency, and more than $54 million in welfare services is provided throughout WA.
For more information, or to donate to LifeLink, go to www.lifelink.com.au.